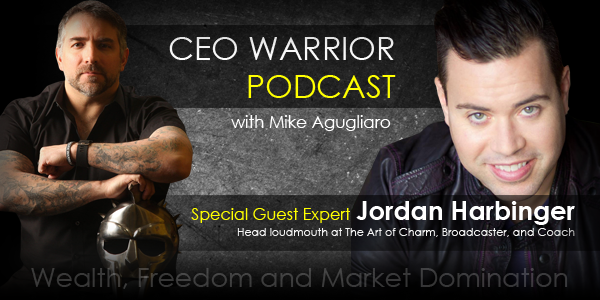 Summary:
In this week's episode of The CEO Warrior Podcast, Mike Agugliaro interviews Jordan Harbinger, who runs The Art of Charm Podcast, one of the most successful podcast on iTunes. Jordan also runs a school in Los Angeles where he teaches people advanced social skills and networking for business, and relationship development skills. During this episode, Mike and Jordan discuss communication identity, personality tests, what it takes to be a good communicator, relationships, and aggressive communication.
Main Questions Asked:
What is communication?
Is there safety in being transparent with people?
Is it right to have two different communication identities?
As a business owner, how do you get started with employee communication?
How is our communication developed, and is it getting worse because of social media?
Talk about the use of personality profiles.
Is there communication you'd have to evaluate for relationships versus in a professional setting?
Can communication change the outcomes that people want?
Is the past 'story' of what people tell themselves affecting communication?
What would you say to someone who comes across as having aggressive communication?
How do you know if someone is a fit for your program?
Key Lessons Learned:
Communication
Communication is having the message clearly articulated so it is received by the other party without ambiguity.
Men are mainly focused on verbal communication and ignore the rest, which is often to their detriment.
Everybody reads communication through his or her own emotional filter.
Communication Identity
The reality of working at a big company means you need to have a 'fake' communication identity. You can't treat employees as though they are friends.
Your authentic communication style isn't always effective because sometimes we react with anger and emotion.
The trick to professional communication is to control ourselves and work on our own communication.
It is not okay to just have good professional communication and crappy intrapersonal communication.
Social Media and Communication
Before smartphones came along, people were reading the newspaper, so there was still a communication disconnect in society.
Social media gives you access to a larger network of people, much larger than ever before, which opens up global communication in addition to local.
Social media can make you feel bad about your life, as you are only seeing the 'highlight reel' of someone else's life and not the full 'trailer' of the ups and downs in the journey.
Social media is a skewed reality, which can cause us to not want to share or put on a fake persona.
We don't want to have a 'social mask' on when connecting with people because the persona ends up being fake, and you want to end up being vulnerable and create a real connection.
Personality Tests
Personality tests skew what we think we are able to do based on the outcome of the test.
Being an introvert has nothing to do with whether or not you are going to be 'good' socially. It just means you need resting time that you do on your own, whereas extroverts do that with their friends.
Good Communicators
These are just people who can speak well in front of a group or motivate their team.
People who become good communicators are that way because they have emotional intelligence.
The same skills that come from persuasion and influence are communication skillsets that translate to business and parenting.
Relationships
Communication is one of the top factors in creating relationships.
Getting people to like and trust you directly relates to whether or not you get the result you want.
Communication is cooperative and not competitive.
There is a fundamental lack of understanding in couples when it comes to entrepreneurship. This has a lot to do with communication.
Aggressive Communication
You can't change other people's communication; you can only change your interpretation and the way you take it in.
Jordan's Program
He does a screening call that lasts about 30-45 minutes where he asks a lot of questions and determines if prospective people will be flexible enough to join.
The ego is the usual impediment and can be smashed on the first day.
Thank you for listening! If you enjoyed this podcast, please subscribe and leave a 5 star rating and review in iTunes!
Links to Resources Mentioned
The Art of Charm
The Art of Charm Tool Box
What is your communication style? Find out w/ @theartofcharm @CEOwarrior https://ceowarrior.com
What exactly is involved in advanced communication & the Art of Charm? Find out w/ @theartofcharm @CEOWarrior https://ceowarrior.com
P.S. – Seize SUCCESS today! Subscribe to HomeServiceMAX to see how the pros do it.

P.S.S. – At WARRIOR Fast Track Academy Phil learned you have to implement to be successful!