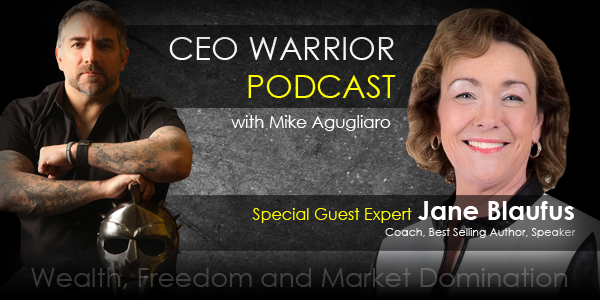 Summary:
In this week's episode of The CEO Warrior Podcast, Mike Agugliaro interviews Jane Blaufus, who is a coach, bestselling author, and speaker. Jane's mission is to get people to have courageous conversations as a part of life. Her mantra is, "We have an obligation to ourselves and those that we love to leave this world in an organized manner." During this episode, Mike and Jane discuss strategic planning, roadblocks, overall estate planning, and how to have 'future' conversations.
Main Questions Asked:
What things do people have to think about going into 2016?
Does the amount of money someone will earn have to do with their limiting beliefs and road blocks about money?
What are the hidden pitfalls for business owners?
What should we start thinking about when it comes to 'future' conversations?
What is the difference in planning for the different types of businesses?
What should people look for when choosing a business coach?
Key Lessons Learned:
Strategic Planning
Strategic planning is the big picture and looking at it to see our 'year at a glance.'
If you only look at your year in small pockets, then things will creep up on you.
Strategic planning allows you to develop contingency plans instead of flying by the seat of your pants.
Business owners often forget to look at their personal life in conjunction with their business life.
When you strategic plan for the year, ensure you book in time for vacations, self-care, and personal development.
Ask yourself how many days you have devoted to bringing in revenue.
Entrepreneurs often forget the 'parachute,' and take care of the biggest asset, which is yourself and the ability to earn and bring in revenue.
60-Day Chunks
At the end of every 60 days, assess what went well, what didn't go well, and what you would have done differently or not done at all.
Work on language, and instead of saying, 'What is this costing me?' ask, 'What is the investment I'm making in my business and myself, and what is the tradeoff?'
Roadblocks
A lot of people reach adulthood without having a solid conversation about money.
Health is the number one thing that affects your wealth, relationships, and mindset.
Do you have a current will in place?
Financial Advisors
Don't just choose someone online; make sure you have a personal referral from someone who has worked with the person.
Seek out the right advisor for you, and if you aren't comfortable, don't be fearful, and find someone else.
The Planning Binder
Fail to plan, then plan to fail.
The planning binder is a good resource to take to your financial advisor and have them help fill out.
When the planning binder is complete, share it with the executors of your will so they have the information.
'Future' Conversations
We have an obligation to ourselves and those that we love to leave this world in an organized manner.
This is not always about death and can be about critical illness. There can be a period where you could be out of your business.
These conversations and having plans in place are extremely good for your mental health.
These conversations will have an effect on your emotional state and depend on when you have them.
Your decisions will be different if you make them in your 30s and 40s, as opposed to making them in your 70s or 80s.
Documents
Every monumental decision we make requires signing a document, whether that be buying a car, business, or house.
Every time you sign a document you claim another part of your life, especially as a business owner, as there is a whole other part of your life that needs to be arranged.
The only difference in planning between a large and small business is the size of the estate left behind.
Advice to Business Owners
Make sure you understand your profit and loss statement.
You should be meeting with your bookkeeper every quarter, if not monthly.
You don't have to be the President and the janitor.
What is the value of every hour you are on the job?
If you want $X revenue per year, then figure out how many days per year you have to work and how many hours per day. That will give you a sense of your hourly value.
If your value per hour is $250, then don't do things you can outsource for $25 per hour.
If you want to grow and see beyond yourself, you need a coach. Invest in your own personal and professional development.
Know Your 'Why'
Why are you are doing what you are doing?
Entrepreneurs often have issues with their marketing and sales, but can't figure out why. It's because they don't know their 'story' and can't articulate what they 'do'.
Know who you are, what you offer, and what makes you unique in the marketplace, and don't do what everyone else is.
Look for the gap and figure out how you can fill that with your expertise.
Getting a Coach
Make sure they are able to provide evidence to backup what they say they can do.
Always get a referral and don't just choose from the internet.
Thank you for listening! If you enjoyed this podcast, please subscribe and leave a 5-star rating and review in iTunes!
Links to Resources Mentioned
Jane Blaufus
With the Stroke of a Pen (book)
519- 647-3712
info@theblaufusgroup.com
Click to Tweet
What 'future' conversations should you have as a business owner about estate planning? Find out w/ @JaneBlaufus @CEOwarrior https://ceowarrior.com
Will you leave this world in an organized manner? Find out what it takes to plan w/ @JaneBlaufus @CEOwarrior https://ceowarrior.com
P.S. – Are you SERIOUS about no longer treading water and MOVE your business forward WARRIOR STYLE? Find out more about Mike's Warrior FAST TRACK Academy!

P.S.S. – Steve wished he had known about the FTA a long time ago! CEO Fast Track Academy Testimonial.