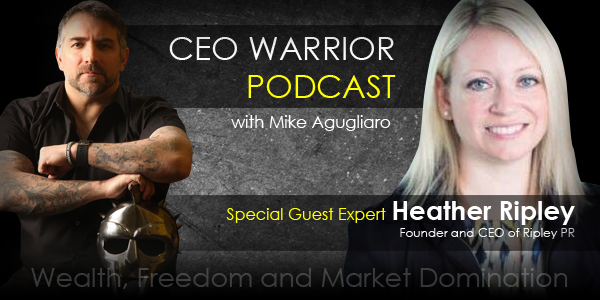 In this week's episode of The CEO Warrior Podcast, Mike Agugliaro interviews Heather Ripley, who is the founder and CEO of the national public relations agency, Ripley PR. During this episode, Mike and Heather discuss the power of PR: The unknown secret to marketing.
Main Questions Asked:
What is PR anyway?
Why does PR coverage have a snowball effect?
Talk about leveraging communication for those that are the face of the brand.
What is the importance of the connection between PR and brand?
Talk about current PR in politics.
How do we take a press mention and get as much exposure as possible?
What PR things can a small company do to get started?
Talk about brand building not being immediate revenue building.
What should we think of PR as overall?
Key Lessons Learned:
The Difference Between PR & Marketing
PR is earned media. This is getting someone else to talk about you or your business rather than paying for coverage.
Seeing a third party editorial piece is often more trustworthy to a customer rather than a paid advertisement.
People believe other people. PR is perceived as being a lot more valuable than marketing.
The PR Snowball Effect
No journalist wants to be a guinea pig and be the first to write about a company.
The first thing a journalist does when a press release crosses their desk is Google you or the company.
TV and newspapers are so competitive in the local market that they are watching what others are talking about.
The more coverage you get, the more coverage you CAN get.
If no one is writing about your company, it will be more difficult to build momentum.
If you are a great interviewee with a reporter, then they will want to come back to you and keep you as a source.
Spin the message and focus on the things you are great at.
Make sure you are doing the right thing and are different from competitors in some way.
Being the 'Face' of the Brand
There should be one primary spokesperson for the brand otherwise it gets very confusing.
There is no way you can have consistent messaging if you are allowed to have multiple people speak to the media.
One false statement could misrepresent the entire brand.
PR & Brand
A lot of people think that the brand is the logo, but your brand is actually who you are as a company and encompasses the core values, mission statement, vision, people, and everything you do.
Your spokesperson should reflect all elements of the brand. This is usually the owner, President, or CEO. This is someone who is high level and has experience talking to the media.
The spokesperson can become the brand.
Brand is all encompassing for a company. It is everything that is said, every action, and every image.
The Power of PR 
In order for something to become viral it has to be a really good idea.
With any campaign, you want to be able to share the 'why.'
Start small and share via a press release or media advisory.
Dealing With a PR Crisis
A crisis situation could happen to any company at any time, and the key is to be prepared.
Often working through a crisis planning session can prevent things from happening.
Crises can be prevented by ongoing positive stories in the press.
Things spiral out of control in the media when there is a lack of immediate control on a situation.
A lot of times simply admitting that a mistake was made will make the problem go away much quicker.
Mentions Into Maximum Exposure
Local media will always be interested in covering a local company that was featured on a national TV show.
If you can say you were featured on a major outlet, such as Fox News or MSNBC, this will add to your credibility as a whole.
Small Company PR
You should start PR the day you open your doors for business.
A lot of people want MSNBC, but there is a lot of leverage in the local newspaper.
Reach out to local media and the editor of the local newspapers. Tell them how you are different, what you do, and that you are available for interviews.
Reach out to TV media outlets, such as the producers or bookers.
Pitch yourself as an expert that you can show in studio or on location.
Have a good story and think about how it will help the outlet sell newspapers or improve viewership. They are looking for something to sell to readers and viewers.
In order to get PR, you need to be willing to serve somebody else without asking for anything in return.
Go through the papers and familiarize yourself with what they write about and the types of businesses they cover. You'll notice themes.
Ensure you are contacting the correct person.
A lot of times it will take 3-4 introductions before they bite. It could take pitching every 4 weeks before they accept.
Brand Building Isn't Revenue Building
There are no guarantees. If someone does guarantee, you should rethink using them as that isn't ethical.
Find an agency that understands your business and trade so they can share what you do and how you do it.
Relationships with media used to be much more important than it is now.
A lot of journalists work as freelancers and write for multiple publications.
PR Overall
Think of PR as lead generation. In a lot of cases PR replaces all marketing dollars.
A lot of times you can replace your marketing spend with PR, but it has to be strategic.
The goal is to get in front of potential buyers.
Thank you for listening! If you enjoyed this podcast, please subscribe and leave a 5 star rating and review in iTunes!
Links to Resources Mentioned
Click to Tweet
What is the secret to the PR 'snowball effect' find out w/ @ripleypr @Heatherripley @Service_Key https://secretsofbusinessmastery.com/
How can a small company handle PR? Find out w/ @ripleypr @Heatherripley @Service_Key https://secretsofbusinessmastery.com/