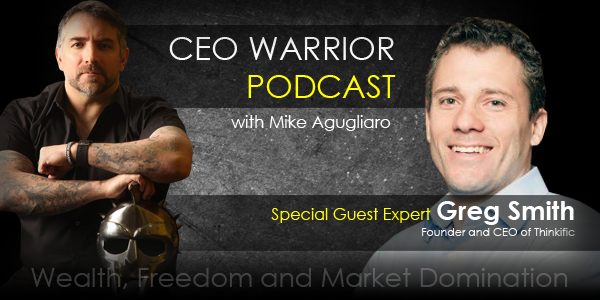 Summary:
In this week's episode of The CEO Warrior Podcast, Mike Agugliaro interviews Greg Smith, who was working for one of America's largest corporate law firms when he launched his company, Thinkific, as a side project. Revenue for his company soon surpassed his salary, and Greg jumped into online education as a full-time endeavor. Greg and his team have helped thousands of authors, coaches, and speakers create and sell their own online courses as a way to build their brand and their revenue. During this episode, Mike and Greg discuss YouTube marketing, online courses, and growth hacking.
Main Questions Asked:
What should business owners be thinking about when it comes to YouTube?
What are the different options you've seen and helped people understand with YouTube?
What are the common roadblocks to launching a course?
What are the successful industries people are creating courses in?
Where have you seen people use completion certificates for value?
Have you seen people use course creation as an additional revenue stream to their career job?
What is growth hacking?
Are online courses a strategy of growth hacking?
Key Lessons Learned:
YouTube
YouTube isn't just cat videos. It's also video marketing.
Unless you have the 'call to action,' and figure out how to take people from the platform and move them into your business, videos just amount to YouTube views.
You need people to watch your videos and follow them to your business.
Building Trust
When you educate someone about a topic, you are instantly building trust in that area.
There is no better way to build your brand than by showing that you are an expert in the area.
Getting Started
Think about what your current and potential clients want to learn before you even create a course.
Getting started is about choosing what you are going to teach, and planning it out.
Success is often based on the distribution of the course, and not just choosing an excellent topic.
If you have an established client base, the best thing to do is share your course with them and ask them to share with friends.
Run pay per click adverts on Facebook, Instagram, and other relevant social media.
Industries and Usage
Courses are as varied as there are niches, and include anything from how to fly drones, jewelry making, Microsoft Excel, dog training, yoga, and art projects.
Companies teach their clients how to use and access their services.
Courses are excellent for onboarding new employees, as training is consistent.
HootSuite & Completion Certificates
There are options to build in completion certificates for training accomplishments.
HootSuite offers a software packages to manage social media, and in edition, have created courses on their podium platform (using Thinkific) for anyone looking to learn about social media.
HootSuite courses are free, and once you have taken this, you can pay for certification.
Certifications are useful for creating 'share,' where people can post on their LinkedIn and social media. This drives people to the online course to check it out.
Growth Hacking
This is about doing a bunch of tests around what is working to grow your business.
Just because someone else is using Facebook ads to grow their business doesn't mean it will work for you.
The best way forward is to run a small test as an experiment.
The biggest mistake people do in marketing is massive projects with thousands of dollars of investment and months of work before they launch and see a return.
Focus on fast, small experiments and double down on the ones that work.
Try a few channels and experiment on what works for you.
The pre-launch is a great way to validate the idea and product behind it before you sink all the effort into it.
So many people want to be the 'Oz,' but the power is leveraging everyone in the team's brains.
Thank you for listening! If you enjoyed this podcast, please subscribe and leave a 5 star rating and review in iTunes!
Links to Resources Mentioned
Want to create your own online course but don't know where to start? Learn how w/ @thinkific @CEOwarrior https://ceowarrior.com
What are the secrets behind growth hacking your business? Find out w/ @thinkific @CEOwarrior https://ceowarrior.com
P.S. – Seize SUCCESS today! Subscribe to HomeServiceMAX to see how the pros do it.

P.S.S. – Alex says you're definitely going to get your money's worth. Warrior Fast Track Academy Testimonial.