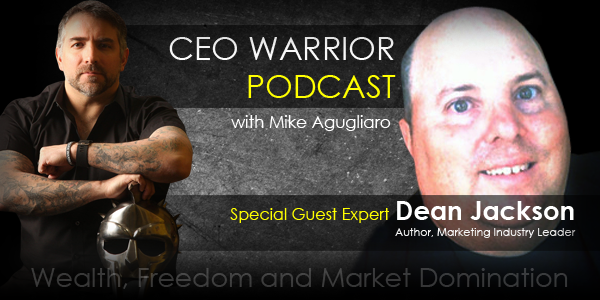 Summary:
In this week's episode of The CEO Warrior Podcast, Mike Agugliaro interviews Dean Jackson, who has been in business for more than 27 years. Dean started making cold calls in real estate and ended up falling in love with direct response marketing. During this episode, Mike and Dean discus direct mailing, trigger data mailings, free recorded messages, the before, during, and after divisions, return on relationships, and three things for referrals.
Main Questions Asked:
What is the effectiveness of direct response mail today?
How do you get people to take action on direct response mail?
What is the difference between direct response and something that works in time?
How do you know the point between nurturing and smothering?
What systems would you build to orchestrate these referrals?
What should people think about marketing, business, and life?
Key Lessons Learned:
Direct Mail
Even Google AdWords markets via Direct Mail.
Direct Mail is a tool to reach a specific people in local markets, and is perfect for lead generation.
This is a predictable way to reach your exact audience.
Lists allow you to choose people in certain age groups, income levels, net worth, and homeowners.
People are caught in the trap of thinking Direct Mail doesn't work, but people still check their mailbox daily.
Trigger Data Mailings
Trigger data mailings are where specific events trigger the mailings such as birthdays or when someone moves into the area, aka 'new movers.'
The best way forward is to test the idea.
Starting Out
When people start using Direct Mail, they often send out a personal promotion postcard rather than direct response.
Understand your ideal prospect and who you will be talking to.
Know what your target is thinking about.
Free Recorded Messages
One of the most effective ways to get people to 'raise their hand' is to offer a free recorded message.
The prospect calls and leaves their contact info in exchange for something free.
Anytime you split the offer, the call-only option is the one that has the highest response.
The less said on the recorded message the better. The person has been motivated to call and leaves the address.
Compelling vs. Convincing
Compelling is something that is driven from an internal desire and self-interest.
Convincing is trying to get someone to do something we want them to do.
Think three moves ahead. You know where you want people to end up, but don't start out with the big end point action. Instead, use the postcard to turn an invisible prospect into a visible prospect.
Before, During, and After
Break your business into these three units (before, during, and after), then break down the business source for last year.
Every business has the three divisions, whether they are constantly thinking of it that way or not.
Before: Getting people to say yes.
Think about the 'before' unit as a separate business that is a supplier of clients for the 'during' unit.
During: Delivering the result.
In the 'during' unit, tasks expand to fill the time available.
After: Make sure you are nurturing the relationships for repeat business.
A certain percentage of every business in America did last year was a result of repeat or referral customers.
Return on Relationship (ROR)
This is part of the 'after' unit.
To figure out ROR, take all the people who you have already done business with and know, like, and trust you, and calculate the number of repeat and referral transactions.
Hold the after unit accountable for how well a business is doing from people who are already clients.
This can be in the form of repeat business or referrals, which isn't often measured.
There are two types of referrals: reactive and passive.
Ask yourself how much of your business came from existing clients through repeat business or referrals.
For most, the repeat might be higher than referrals because a culture of referrals hasn't been created.
All referrals happen as a result of conversation.
Three Things For Referrals
Three things have to take place in order for a referral to happen.
1) Notice the conversation is about the product or service.
2) Think about you as the business owner.
3) Introduce you into the conversation.
For every referral that materializes there are probably five times that amount that never happen, because the system wasn't set up to instruct people on what to do when they notice the conversations.
Systems for Referrals
Focus on identifying the key things that are 'triggers' for someone starting a new relationship? E.g. Someone talking about buying their first home.
People need to get over the mindset that referrals are a favor to the business owner.
The real reason people refer anyone is because it makes them feel good.
The Future
Do the check on your existing situation, and look at the last 12 months and divide the business that came in the 'before.'
How much business came in the 'during' unit?
How much business came in the 'after' unit of repeat and referrals?
What are the simple things to do to make improvements in each division of the business?
Awareness and focus builds momentum.
Thank you for listening! If you enjoyed this podcast, please subscribe and leave a 5-star rating and review in iTunes!
Links to Resources Mentioned
Click to Tweet
Do you have a culture of referrals? Find out why it's crucial w/ @ILMPodcast @CEOwarrior https://ceowarrior.com
What is the 'Before, During and After' of business? Find out w/ @ILMPodcast @CEOwarrior https://ceowarrior.com
P.S. – Lead your business to success by learning how the pros do it. Get the FREE Chapter Bundle from Mike's book The Secrets of Leadership Mastery!

P.S.S. – Eileen says working hard every day AND seeing progress is what makes the difference. Warrior Fast Track Academy Testimonial.