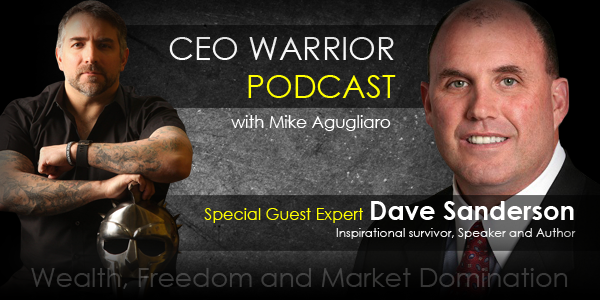 In this week's episode of The CEO Warrior Podcast, Mike Agugliaro interviews Dave Sanderson, who is an inspirational survivor, speaker, and author. When US Airways flight 1549, AKA 'The Miracle on the Hudson,' ditched into the Hudson River on January 15, 2009, Dave Sanderson knew he was exactly where he was supposed to be. The last passenger off the back of the plane on that fateful day, he was largely responsible for the well-being and safety of others, risking his own life in frigid water to help other passengers off the plane.  Dave emerged with a mission to encourage others to do the right thing. During the podcast, Mike and Dave discuss mission-focused leadership and how to create your flight plan.
Main Questions Asked:
How did the plane crash shift your life?
What is the problem you've seen with leadership today?
What are the pains business owners are dealing with by not having a plan?
How do we implement the mission in our company?
What are your strategies for getting people to change?
What roadblocks do people experience?
How do you deal with negative people within the team?
How do you know when it's time for a new mission?
What is the quickest way for a business owner to identify if they have the right person in the right job?
Key Lessons Learned:
Every moment in your life matters, and you never know when a moment will come where you have to employ something you never thought you would have to use.
Everyone in life is given pathways to impact other people.
The same things that happened on the plane during the crash are the same things that happen as a microcosm in business; these include teamwork, leadership, participation, persistence, and focusing on the mission.
Life is about how you respond and whether you have a reference for that response.
Leadership Today
The people who succeed have a plan and a personal mission.
The biggest challenge people have is getting everyone on the team in alignment with the mission.
Implementing the Mission into Business
Change what you focus on.
Find out what state of mind a person is in so you can get them in alignment.
Change your body and physiology.
Everybody has a primary sense they rely on when times get tough.
Figure out what modality people reside in so you can communicate with them.
Change how you talk to yourself.
What resources can you access in the way you manage yourself and your mind?
Know your people.
If someone has a better skillset, let them take leadership to get the best outcome.
Strategies
Understand the primary modality of every team member.
Figure out the primary state of each team member.
Skills to look for in team members:
1) Resourcefulness.
2) Anticipation.
Roadblocks & Negative People
Persistence is the difference between being good and those who get to the top 1%.
Most people think they only have one thing they can do, but sometimes you have multiple options.
When it comes to negative people, try to understand what is driving their negative emotion.
The challenge is having the right people in the right places on the team.
New Missions
Once you've accomplished the mission, certain outcomes, and objectives, the level is raised for new outcomes.
Make sure you have a core mission so everyone is going in the right direction.
Having the Right Person in the Right Job
Complete 360-degree reviews, where the employee, management, and peers have the opportunity to address strengths and weaknesses of each employee.
Figure out if the employee in the right place.
If an employee isn't in the right place, then ask 'what do I need to do to move them to a place where they can serve the company better?'
Dave's Final Advice
Take care of your employees.
If you expect your employees to be all-in, then you have to be all-in with your employees.
Understand what drives your employees.
The primary need of people is to have certainty, but if you have too much, then you'll seek variety and uncertainty.
Understand the balance between significance and connection.
People want to be significant, recognized, and stand out.
Understand the need to contribute and give back.
The companies that are succeeding are those that are philanthropic and giving back to the community while looking at the bigger picture.
Thank you for listening! If you enjoyed this podcast, please subscribe and leave a 5 star rating and review in iTunes!
Links to Resources Mentioned
mikea.ceowarrior@gmail.com
Click to Tweet
How can 'The Miracle on the Hudson' flight be a lesson in business? @DaveSanderson2 & @Service_Key https://secretsofbusinessmastery.com/  
How will implementing a mission in your business change it? Find out w/ @DaveSanderson2 & @Service_Key https://secretsofbusinessmastery.com