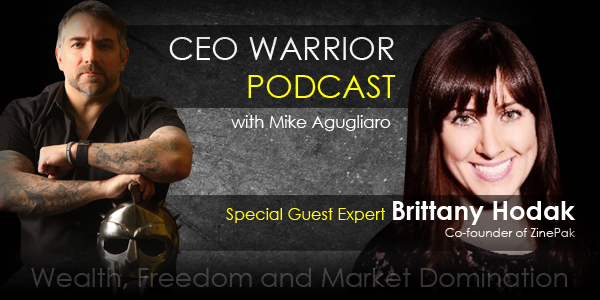 Summary:
In this week's episode of The CEO Warrior Podcast, Mike Agugliaro interviews Brittany Hodak, who, in 2011, co-founded ZinePak, a marketing company that helps music super fans connect with the artists they love. The company has grown from a two-person operation to a multi-million dollar international entertainment company. Brittany has won numerous awards and, in 2015, appeared on Shark Tank, where she garnered the interest of four out of the five entrepreneur sharks. During the podcast, Mike and Brittany discuss what it's really like to be an entrepreneur on Shark Tank, keeping people engaged, the importance of branding, and the future of marketing.
Main Questions Asked:
Talk about your experience on Shark Tank.
Share your thoughts on marketing in general.
How can people be more consistent with their marketing?
What should we think about in how we create an experience in our marketing?
Why is copycat marketing so dangerous?
Is there ever too much marketing?
What are things you created that made a great impact?
How does marketing help create a tribe and keep people engaged?
What are the hot trends and future in marketing?
What are the news statics on the amount of marketing and brandable images people are getting hit with every day?
Share with us what businesses should know about branding.
How do you know when you have great branding?
What are the tips and tricks when a company starts to grow that you have put in place to scale?
Key Lessons Learned:
Marketing is every single touch point and interaction from the way you dress to how you sign your email messages.
Consistency in your HVAC marketing strategies comes down to core values and whether you are talking about yourself as an individual or as a business.
Every business or brand should be able to tell you what their core values are.
The core values can be used as a litmus test to tell you if your marketing is on point.
Marketing starts with the core values and personality that you set for your business.
Marketing Experience
Ask yourself, "what kind of customers am I looking for?"
Start out by asking what type of companies you don't want to work with.
Ask yourself how you go about attracting your core audience and the people you have identified as your most valuable customers.
What are your customers looking for? What do they want to hear from you? How are they going to find you?
When you put yourself in place of the customers, you can begin to craft messaging that will attract the kind of people you want to have as your clients.
People 'market' but often don't market to the conversation and use the language that their avatars are looking for.
A helpful exercise is to talk to your valuable existing customers and ask questions.
Understand your existing customers and why you are the service provider that they go for.
Be Laser Focused
You will never win on everything, so you have to decide where you want to compete and how to be the best in those areas.
Start telling people about your unique values and build a story around that so you can start making consumer's lives better.
The people that fail try to be the best at everything. The ones who succeed are those who are the absolute best in class at what they do.
Is There Ever Too Much Marketing?
If all you are doing is shouting your brand message repeatedly, then yes, you will be tuned out.
If you are delivering content that the people you are trying to reach want to know about and it's not always about your brand, then that is useful.
Curated content helps to build authentic relationships that keep your brand top of mind with consumers.
Dangers of Copycat Marketing
It is inauthentic and hard to defend against 'me too' companies.
It will be difficult to stand out from the industry leader.
Instead, market to your own customers based on what you are best at.
Keeping People Engaged
One of the challenges is figuring out how people want to be marketed to.
Figure out the medium, then craft the content and make sure it is correct and consistent.
Don't' dilute the brand and your key offer.
Ensure your message remains the same across multiple mediums.
Talk to people in the way they want to be talked to (in the media they use the most).
If you want to spend the time and money, it is possible to make the brand message different for each customer.
The best way is to put people in groups and figure out how to talk to each of those groups.
Future of Marketing
Delivering content to consumers via mobile in real time via augmented reality.
It is becoming more difficult to decipher what is advertising, especially when it comes to celebrity endorsements.
Branding
The brand is the only thing you have that can't be copied.
The best way to build a brand is based on core values that people identify with.
Test and vet everything your brand does against the core values.
Think of your brand as a persona and know how your character would react in certain situations.
Who is this brand I'm creating? How does it interact with the world?  What is the personality?
Tips & Tricks
Know the difference between working 'in' your business and 'on' your business.
As you grow think about scaling, operations, and setting up a business that runs without you in it.
If you aren't building a business that operates without you, then you're building a job not a business.
Know what you care most about and figure out how to position yourself to be able to accomplish those goals the best way you can.
Thank you for listening! If you enjoyed this podcast, please subscribe and leave a 5 star rating and review in iTunes!
Links to Resources Mentioned
Click to Tweet
@ABCSharkTank success story @brittanyhodak of @ZinePak shares her success story w/ @Service_Key https://secretsofbusinessmastery.com/  
How can you test if your marketing is on point? Find out w/ @brittanyhodak of @ZinePak & @Service_Key https://secretsofbusinessmastery.com/