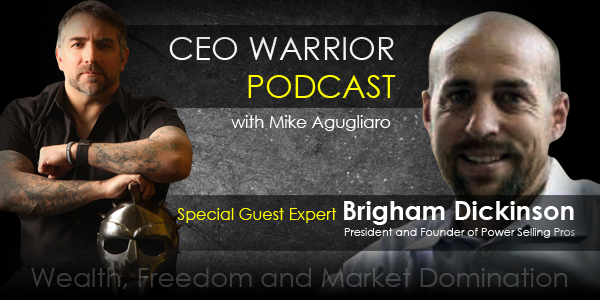 Summary:
In this week's episode of The CEO Warrior Podcast, Mike Agugliaro interviews Brigham Dickinson, who is the President and Founder of Power Selling Pros, which is a leading coaching and training program dedicated to teaching call-handling teams to wow more customers. During this episode, Mike and Brigham discuss how to handle calls from the greeting to the closing.
Main Questions Asked:
What is broken in the service world when it comes to answering phones?
What loss have you seen due to lack of reporting?
What does it mean to be positive?
Why is there such as issue of empathy?
Key Lessons Learned:
Customer Service Representatives (CSRs)
CSRs look at their job as a set of tasks they need to complete, and have a transaction mindset.
CSRs need to create a connection with the customer, as opposed to a transaction.
Recording Calls & Tracking
If a call center doesn't have reporting or record their calls, they have no idea what they are missing.
If you aren't recording calls, then you are missing opportunities.
By increasing call conversion, even if its one additional call per day, you could be looking at an extra $125K per year (over 250 working days on a $500 booking).
Training
Once you uncover the problems, you need to train your CSRs.
A lot of companies focus on applications rather than experience.
The goal is to teach the CSR about the 'what' and the 'why' of what they are doing, not just handing them a script or sell system.
The WOW Experience
In a WOW experience, the giver freely provides a service that the receiver didn't expect. The byproducts are:
o More booked calls.
o More revenue.
o Happier CSRs.
o Stronger culture in the office.
o Seeing the end goal and purpose.
8 Principles for a WOW Experience
1. Positive
This is about energy and teaching the CSRs to be proactive in the energy they are giving out.
If the CSR isn't trained, they will have a tendency to be reactive.
Give energy and don't take it.
Take 15 minutes a day to actively work on your positive attitude.
2. Confidence
A CSR that is well-practiced, which requires preparation and listening to their phone calls on a regular basis.
CSRs shouldn't be intimidated by whoever calls in, and should be ready to play every time the phone rings.
3. Listen
Show the customer that you are listening.
The goal is not to just transact but to connect.
By listening to the customer, you learn things about them in order to connect.
When customers have the opportunity to express themselves, they feel like you understand.
People wont believe you can help them if you don't show them that you're listening.
Show you are listening by how you interact such as using tone, rephrasing, reflecting, and asking additional questions
4. Care
Empathize, don't just listen and validate the customer's worth.
Customers share details because they want you to care.
Empathy with younger generations is disappearing with the increase in transactional interaction.
Showing you care is not as easy as saying 'sorry.'
5. Say 'Yes'
We have a tendency to say no, can't, don't, no way, and unfortunately.
Focus on what you can do and not what you can't do.
6. Ask 'When'
7. Build Value
Give people what they want, not just what they ordered.
It's not about selling but rather about great customer service.
8. Be Grateful
When you are grateful, you say thank you and you made a difference
When people feel they made a difference, they feel important.
When people feel important, they become loyal.
Loyal customers are difficult to come by.
You spend a lot of money to make the phone ring.
Final Advice
You'd be surprised how little you have to spend to book that opportunity.
Thank you for listening! If you enjoyed this podcast, please subscribe and leave a 5-star rating and review in iTunes!
Links to Resources Mentioned
Power Selling Pros
Phone: 801-253-1004
Click to Tweet
What are the 8 Principles for a WOW customer service experience? Find out w/ @PSPWoW @CEOwarrior https://ceowarrior.com
Are your CSRs leaving money on the table? This podcast will change that! w/ @PSPWoW @CEOwarrior https://ceowarrior.com
P.S. – Seize SUCCESS today! Subscribe to HomeServiceMAX to see how the pros do it.

P.S.S. – Jim felt it was time to get off the fence and learn something new. Fast Track Academy testimonial.