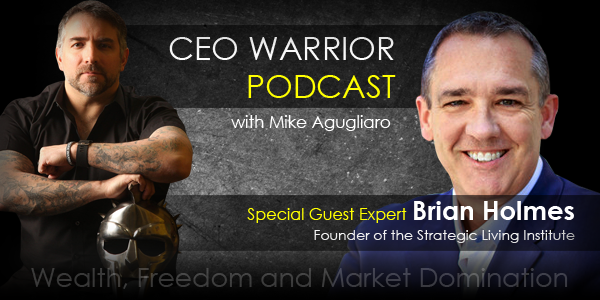 In this week's episode of The CEO Warrior Podcast Mike Agugliaro interviews Brian Holmes, who is the founder and president of the Strategic Living Institute. Brian is passionate about developing people and has been in the 'people' business for more than twenty-seven years. During this episode, Mike and Brian discus the four cornerstones for strategic living.
Main Questions Asked:
Will the four cornerstones help give us direction in figuring out our core purpose?
What are people today trying to heal?
Do personal limiting beliefs create business limiting beliefs?
What are some ways to break through limiting beliefs?
Have you noticed if there is a common age bracket for the four cornerstones?
What is the question we should be asking ourselves about personal development?
Where are the common roadblocks in the process?
What are you relationship insights?
Key Lessons Learned:
Strategic Living
People have been duped into the idea that we must go with the hand we've been dealt, but we can all live strategically, intentionally, and purposefully.
Strategic living implies that someone is being intentional about how his or her life is going to go. It requires deciding how one will live his or her life.
Strategic means purposeful, intentional living.
The Four Cornerstones
The following is a sequential process and a complete cycle. In seasons of your life, it is likely you will go through the process again and again to progress to the next level.
Personal Healing
The thing that inhibits adults from moving into a greater expression of who they really are is limiting beliefs.
Limiting beliefs are formed throughout our life but usually start in infancy. We pick these up through models we see.
We are constantly taking on a belief system that ultimately drives how we view life.
People act in accordance to the truth as they believe it to be.
We act out our life every day based on unconscious beliefs that are deeply embedded on our personal 'hard drives.'
In order to deal with limiting beliefs, we sometimes have to deal with difficult things that have happened to us.
Anger is an outward expression of an internal issue that needs to be reconciled.
Question: What are the areas in my life where I am presently experiencing limiting results? Why?
Often we are able to identify what the areas are but not the why, as that involves looking within.
Personal Discovery
Internal struggles always express themselves in our external world.
The greater success that we all desire always begins with looking on the inside.
Breaking limiting beliefs is all about the mind.
We get fixated in working in our business, and we stop working on our business.
Question: What am I passionate about, and how does that relate to my dream? What is my dream?
Personal Development
How do we need to be developed to maximize the role, function, or position?
The personal development industry hit a peak in the 1980s and 1990s.
There is a reemergence toward a consciousness of personal development.
Personal development is the discipline to learn, grow, and strengthen.
Ask yourself what areas of competencies, knowledge, and expertise do you need to gain in order to reach your objective.
Preparing is doing what you do without an audience or the possibility of failure.
Destiny Deployment
Sometimes we get so involved in the learning we become professional learners and never get engaged in our calling.
Roadblocks
The biggest hang up that costs more leaders success is not having personally healed. This will undermine the other three areas.
Instead of adjusting the belief to the reality, we adjust the reality to the belief.
The only thing keeping you from realizing your potential is the negative internal beliefs.
In order to get healed, we need to acknowledge pain.
Relationship Insights
In order to be successful in life, you need relationships and resources. If you have to choose between the two, always choose relationships. The relationships will lead you to the resources.
As you move from one level to the next, not every relationship you had on the previous level can go with you.
Thank you for listening! If you enjoyed this podcast, please subscribe and leave a 5 star rating and review in iTunes!
Links to Resources Mentioned
Click to Tweet
What are the 4 cornerstones of strategic living? Find out w/ @BrianHolmesLive @CEOWarrior https://secretsofbusinessmastery.com
What are some ways to break through limiting beliefs Find out w/ @BrianHolmesLive @CEOWarrior https://secretsofbusinessmastery.com