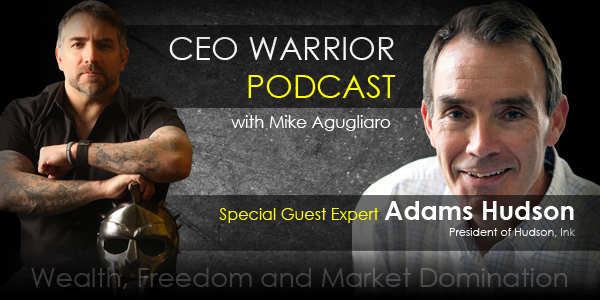 Summary:
In this week's episode of The CEO Warrior Podcast, Mike Agugliaro interviews marketing expert Adams Hudson. Adams is the President of Hudson, Ink and talks with Mike about marketing percentiles, marketing profile analysis, the middle against itself, fear and the fixer, marketing integration, and Direct Mail.
Main Questions Asked:
Where do people start in marketing?
What are the next steps after identifying the avatar?
Talk about the middle being against itself.
What is the current state of fear?
What is the future of Direct Mail?
Key Lessons Learned:
Marketing Percentiles
Conservative: 2.5-4%
Moderate: 4-6%
Aggressive: 7-9%
Startups and New Locations: 10-11%
Getting Started
Define your market and vision of what type of customer is attracted to you.
If you have a steady pipeline of customers and more work than you can handle, either hire more people or raise your prices.
A lot of businesses that haven't figured it out have a cyclical path.
Marketing Profile Analysis
The three biases:
1) Direct response.
2) Image and branding.
3) Customer retention.
The Middle Against Itself
Some of the smaller contractors can and will 'make do.'
The big companies get bigger and market more shrewdly, and are smarter about customer acquisition and retention.
The middle is being purged out, and there is no room for an average performer with average prices and average people.
Mindset will always win over skillset.
Fear and the Fixer
A contractor has a 'fixer' mentality.
Everyone wants to be valuable somehow.
How does a fixer mentality become valuable?
Contractors have a slightly negative personality, as they are trained to look for the broken.
People want to be accepted. When they look at different marketing, they are fearful of putting that personality out there in public.
Marketing Integration
This is one message across many media instead of many messages across many media.
This is easier to manage, understand, and measure.
Integrate your message into consistent campaigns across all media, and get the noise out of your marketing and get clear.
There are few attributes and traits customers are attracted to.
Look at how the biggest companies outside your industry deploy their marketing strategy. It works for a reason.
Frequency builds trust and impact.
The same message over multiple vehicles builds penetration.
Direct Mail
Direct Mail is a medium.
There was a big downturn in Direct Mail due to popularity of email and internet, and the anthrax scare.
The pendulum has swung back, and it's not 'all or nothing' online versus offline.
A greater percentage of marketing is spent today than six years ago.
Google AdWords is one of the top ten spenders for Direct Mail in the US.
Some of the big players in Direct Mail include Ikea, Amazon, and eBay.
Adams' Final Thoughts
Match your best message with your most desired market, and do it relentlessly.
Thank you for listening! If you enjoyed this podcast, please subscribe and leave a 5-star rating and review in iTunes!
ADDED BONUS FOR LISTENING TO THE PODCAST!
·         90-day Marketing and Promotion Calendar – you'll get 3 months, plus a bonus month outline of what to do, what not to do, media to use, promotions to use.
·         30 minutes with a coach to help work through your marketing plan, for the month, quarter, or entire year!
·         Marketing Profile Survey that'll 'peg you' into an exact marketing platform (Conservative, Moderate, Aggressive). It takes only 15 or so minutes to complete, but will open your eyes VERY WIDE to how to structure your marketing plan.

Links to Resources Mentioned
Hudson, Ink
It Must Be Your Marketing
What are the three biases to look for in your marketing profile analysis?
Find out w/ @AdamsHudsonInk @CEOwarrior https://ceowarrior.com
What is the secret behind marketing integration? Find out w/ @AdamsHudsonInk @CEOwarrior https://ceowarrior.com
P.S. – If you were waiting for the perfect time to seize this opportunity, the time is now. Read the Home ServiceMAX Magazine for FREE, today!

P.S.S. – Eileen says working hard every day AND seeing progress is what makes the difference. Warrior Fast Track Academy Testimonial.