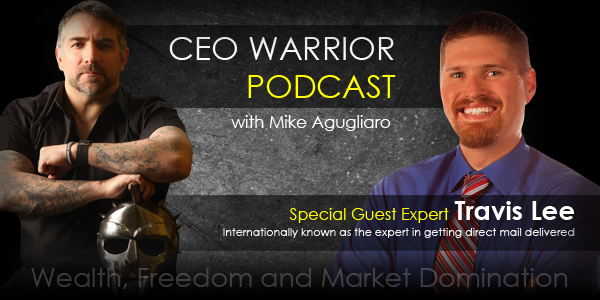 Summary:
In this week's episode of the CEO Warrior Podcast, Mike Agugliaro interviews Travis Lee. Travis is the founder of 3D Mail. He is internationally known as the expert for getting direct mail opened and read.
Main Questions Asked:
What is wrong in the world of direct mail today?

Why do people spend money on digital marketing tactics instead of direct mail?

What do you do for your clients?

What are your different strategies for direct mail?

How often should someone give value versus asking for the sale?

How does copywriting play a part in direct mail?

What is your favourite product that you offer?

What do you think business owners should think about in the near future?
Key Lessons Learned:
Direct Mail
Direct mail is perceived to be old fashioned or obsolete, the truth is that corporate mail is on the decline.

Direct mail is still one of the best ways to target a particular market.

It's as close as we can get to a face to face sales conversation.

There is less distraction involved in physical mail than email.

Try to have a 50/50 split between value and offers.

Test different techniques but don't get distracted by the shiny objects.

The simple formula: lead generation, to buyer, to repeat buyer, to brand evangelist.
Working With Clients
Most people don't ask for more money from their existing clients, they instead focus on finding new clients.

Offline methods are now the way to stand out in the inbox.

You have to figure out when a previous customer should be contacted to reactivate them.

Make more offers to your current list of customers, they have already proven they are willing to spend money.
3D Mail Strategy
Online and offline touchpoints are coordinated to create a connection.

All your direct mail efforts should stack on top on one another.

Compressing the number of contacts into a few days can turn a prospect into a customer much faster.

3D Mail is literally 3D, it stands out because it is deliberately different.

Set the expectation ahead of the actual delivery.

Gatekeepers are present in the consumer space as well as the b2b space, you have to get the gatekeeper on your side.

The best offer is the one that will make the client the most money.

Use the boomerang strategy to get past customers to come back, explicitly ask for their business again.
Lead Monetization
Offer your leads value first, either free or low cost but something tangible. If a person accepts the value, they are putting their hand up and saying they are interested.

Grow your list of leads and then monetize it.

Monetizing usually happens after someone has raised their hand.
Copywriting
Copywriting is the written techniques that convince someone to raise their hand.

Good copy doesn't necessarily follow the rules you learned in English class.

Your headline should promise something the person cares about.

Testimonials with a name, city, and picture are a form of social proof.

Make a claim, state the benefits, include testimonials, and make a specific offer.

Include a deadline, people are inherently lazy.
Final Tips
Don't abandon the tried and true, proven methods of marketing like direct mail.

The value of any business is in the list. Separate the list into three piles, leads, buyers, and big buyers.

Learn how to identify good copy from bad copy.
Links To Resources Mentioned
Thank you for listening! If you enjoyed this podcast, please subscribe and leave a 5-star rating and review in iTunes
P.S. – Are you SERIOUS about no longer treading water and MOVE your business forward WARRIOR STYLE? Find out more about Mike's Warrior FAST TRACK Academy!