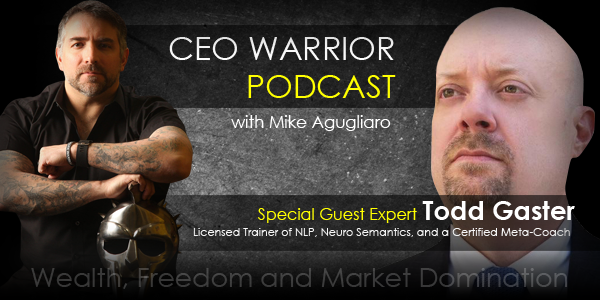 Summary:
In this week's episode of The Secrets of Business Mastery Podcast, Mike Agugliaro interviews Todd Gaster who is an international authority on wealth, health, happiness, and success. As a licensed trainer of NLP, Todd is currently helping others grow their net worth, lose weight, and bring passion back into their relationships. Todd has spent the past 15 years studying the brain and how it relates to us living at our highest and best potential. This show covers limiting beliefs, wealth, and 5 steps to financial freedom.
Main Questions Asked:
What is excellence, and what should people think about that term?
What is the baggage you have seen that holds people back?
Where do limiting beliefs come from?
How do we go about changing limiting beliefs?
What is the definition of wealth?
What does one say to get their mindset and wealth to move forward?
What are some of the beliefs in the business culture or of employees?
What happens on the metaphysical when you repeat limiting beliefs over and over again?
What is the best piece of advice you would give a business owner in any market today?
Key Lessons Learned:
Excellence is someone living to his or her best and highest potential without encumbrance.
Say it the way that you want it. Ask yourself, "What is it that I want?"
You attract what you are, not what you want.
Be careful what you say, what you want, and what you are focusing on.
Beliefs
A belief doesn't have to be true in order to be believed.
A person's belief system is what holds them back.
People don't believe that beliefs are doing anything from helping them achieve their goals.
If you are not where you want to be, there is a difference between what it takes to get there and the beliefs you currently have.
When it comes to limiting beliefs, perception is projection. What you look for is what you are going to get.
It is rare to find a movie or book where the rich guy is the good guy. However, we are happy to laugh at 2 Broke Girls.
The belief is put in the thought of if you don't have money you are good, and if you have money you are bad.
Changing Beliefs
In order to change a belief you need to understand what a belief is.
A belief is nothing more than a thought we've had that we said yes to and confirmed.
Be aware that you have a belief. We have thousands of thoughts all day long that we don't say yes to.
If you want to change a belief, you have to question it.
Health & Wealth
Wealth is abundance and prosperity in all areas of life and includes how much value you bring to the market place, business, family, health, spirituality, and relationships.
Money and wealth are not the same thing. Money is only a part of wealth.
Look to see how many millionaires are out of shape. There aren't many because when we are wealthy, we are wealthy on the outside.
Everyone has time to exercise; it's just that some don't make it a priority.
5 Steps To Financial Freedom
Define what you want, where it is that you want to go, where you are starting, and why you want to get there.
What is the 'why' that drives you to do what you are already doing?
Take that 'why' and attach it to what you want to do.
Your intention needs to be aligned with your attention.
Discover your beliefs.
Destroy any beliefs that are not in alignment for helping us get where we want to go.
Decide.
Do.
Mike's Action Steps
Excellence is living your highest potential.
What is it you want to achieve, and why don't you have it?
A belief is a thought we have and confirmed.
Wealth is value. How much are you bringing to your community and business?
Make sure your intention is inline with your attention.
Wealthy inside is wealthy on the outside.
Thank you for listening! If you enjoyed this podcast, please subscribe and leave a 5 star rating and review in iTunes!
Links to Resources Mentioned
mikea.ceowarrior@gmail.com
Click To Tweet
Are your limiting beliefs holding you back? Make changes w/   @mywealthcoach & @Service_Key https://secretsofbusinessmastery.com
What are the 5 steps to financial freedom? Find out w/ @mywealthcoach & @Service_Key https://secretsofbusinessmastery.com