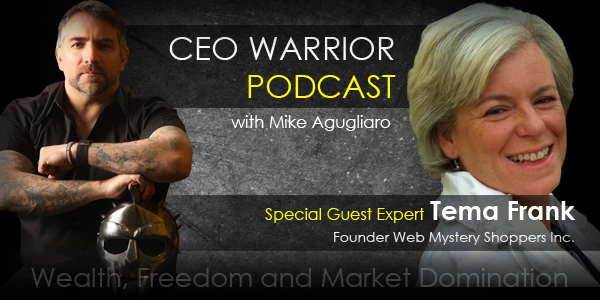 Summary:
In this week's episode of The CEO Warrior Podcast , Mike Agugliaro interviews Tema Frank. Tema is a best selling author, international speaker, and consultant. Tema Frank has over three decades of experience in business, marketing strategy, usability testing, and customer experience improvement.
Main Questions Asked:
What is broken in the customer experience world?

What is the competitive advantage of great customer service?

How do we know if our customer experience is good or bad?

What kind of feedback should we listen to?

How do we improve the culture to customer service issue?

What do you look for when bringing on new customer service people?

Do companies have a choice to improve?

What are some action items we could take away today?

What is one piece of wisdom you want to us to keep in mind for the next few years?
Key Lessons Learned:
Customer Experience
Many companies don't believe the customer experience is important.

Customers can share a bad experience far and wide via social media.

Some companies have a protected market which means they don't need to improve very much.

Technology is disrupting even entrenched industries.

Competition is getting fierce, customers will go to the companies that treat them best.

Creating a connection can help build loyalty.

Most customers won't let you know your service is bad, they'll just leave. Don't wait for your customers to disappear.

It's less expensive to keep a customer happy than it is to find a new one.
Getting Feedback
Talk to your customers. Ask them questions about how they feel about your business.

Surveys work but the response rate is going down.

Giving them an incentive to respond isn't necessary if you're providing a personal point of contact.

Complaints or refunds are obvious hints of a bad experience.

Defects could lead to complaints and refunds.

Unhappy staff can lead to unhappy customers.
3 P's
Promise: Why do you do what you do?

People: Everyone involved in your business impacts your customer experience.

Process: Understand what needs to be changed internally in order to serve customers better.
Culture
Changing a business culture starts with a leader.

Listen to what your customers are saying.

Listen to your staff and see what can be changed from a customer perspective.

Some employees will resist change and may need to be eased out.

Almost no one decides to give poor customer service.

Most people want to do good work.

Our society has moved away from empathy and connecting with each other.
Hiring for Customer Service
Look for empathy in your candidates.

Look for attitude first.

You can train the technical skills later, attitude is harder to change.
Action Items
Talk to your customers, what is their experience, what would they change to make your business better?

Talk to your frontline people, what are they hearing, what are the problems they see?

Gather your team and discuss the feedback.
Final Tips
Always keep the customer's perspective of your business in mind.

Talk to your customers one at a time. Find out what they think you're doing right and what you're doing wrong.

If your company isn't improving, it's dying.

Customers rule. Take your customer's needs seriously if you want to survive.
Thank you for listening! If you enjoyed this podcast, please subscribe and leave a 5-star rating and review in iTunes!
Links to Resources Mentioned
Canada's Best Employers for Women Book
P.S. – If you were waiting for the perfect time to seize this opportunity, the time is now. Read the Home ServiceMAX Magazine for FREE, today!

P.P.S. – Chris Edmonds says it's a no-brainer to come! It's well worth your time.  WARRIOR FAST TRACK ACADEMY TESTIMONIAL.