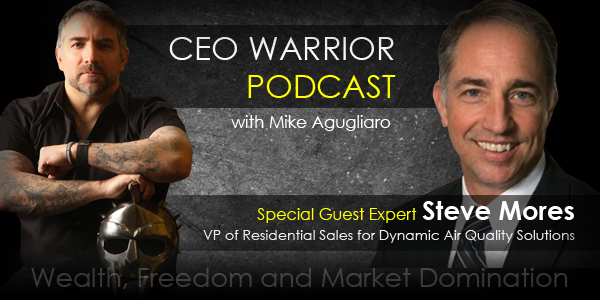 Summary:
In this week's episode of the CEO Warrior Podcast, Mike Agugliaro interviews Steve Mores. Steve Mores is the Vice President of Residential Sales for Dynamic Air Quality Solutions, a position he has held since October 2009. In 1989, Steve founded Premier Environmental Technologies, a company that was instrumental in bringing new technology and IAQ products to consumers through the HVAC industry. Under his direction the company grew into the largest distributor of air quality products in the mid-western states.
Main Questions Asked:
What are you up to today?

Can a winner become a wonderer?

What are some of the things you've seen that have deflated winners?

Do you think there is any confusion amongst business owners about who the leader is in their business?

What have you seen in businesses that indicate they will be the most successful?

What would you tell entrepreneurs about how to handle the stress of life?

What are your thoughts on culture?

If you could tell entrepreneurs to think about something over the next few years, what would it be?
Key Lessons Learned:
Hiring and Team Building
Hiring is about finding the right people and getting them on your bus.

Try not to limit your market for candidates.

You can train aptitude and technology but it's hard to change attitude.

Hire for attitude first.

Winners are people that concentrate on things they can control, whiners concentrate on the things they can't control, wonderers don't know what to do.

Complacency can change someone from a winner into a wonderer.

Keep your winners motivated and positive.

Give your team the opportunity to excel.

"The way the leader does anything is the way his people will do everything."
Motivation
You need to measure your KPI's to make sure your team is on track.

Keep in touch with what is going on in the personal lives of the winners on your team.

Set goals that your team agrees upon that are achievable.

Don't change your expectations or compensation structure unless it makes sense for everyone, seek collaboration and agreement.
Leadership
Teams always have a leader.

The leader should understand the reasons business is done.

If the owner doesn't lead their company, the employees take the lead.

It's easier to avoid the "nonsense" than to confront and correct it, but you need to address the shortfalls in your team.

Your employees will appreciate the fact that you are paying attention.
Success Indicators
A leader that's focused on self improvement.

Leaders that are constantly training themselves and their team.

Understanding the numbers that are important to your business. Gross sales, profit margin, closing rate, average ticket, lifetime value, etc.

Knowing what size of operation you can handle.

Having your systems and processes in place. Written procedures help a company run more effectively.
Managing Stress
Delegate some of your tasks to people you trust, don't try to do everything. Also, don't micromanage the people you delegate to.

Manage your diet and make exercise a priority.

Make meditation a part of your routine if it helps you.

Take care of your health, don't put it off.

If you lack health, you lack personal power.
Company Culture
Culture starts with at the top and how you act and treat yourself.

Culture should be fun, competition amongst your team can help.

You become your thoughts. Your thinking will shape your culture and manifest itself through your employees.

Building a winning culture is a work in progress that takes time.

Culture is a frame of mind, it can either reinforce the values that can help you be successful or hold you back.

PLAN, prepare, learn, adjust, never quit.
Vendors and Relationships
You have to create a good experience with the people you do business with.

Price shopping is the natural first step, trust is the ultimate destination. The "I've got a guy" factor.
Air Quality and Health
There are three things that make you sick. What you eat, what you drink, and what you breathe.

Indoor air is 3 – 5 times worse than outdoor air.

Toxins in the air are gradually absorbed into our bodies.

You can reduce or eliminate a number of health issues by improving the quality of the air you breathe.
The Future
Fix yourself first, get your mind and body right.

Run your business with ethics and good character and culture.

Create processes, people want expectations and clearly defined goals.
Final Tips
Remember you're not selling, you're letting people buy.

Measure your metrics daily, have goals that everyone agrees on.

Identify when there is a problem brewing in your business, make sure you have clarity and alignment.

Don't be a micromanager.

You become your thoughts, are you thinking positively or negatively.
Thank you for listening! If you enjoyed this podcast, please subscribe and leave a 5-star rating and review in iTunes!
Links to Resources Mentioned
Steve's phone number: 630-417-4998
P.S. – Seize SUCCESS today! Subscribe to HomeServiceMAX to see how the pros do it.

P.P.S. – Teresa says if you want to succeed, if you want to grow your business, you need to go for it. you need to do this. WARRIOR FAST TRACK ACADEMY TESTIMONIAL.