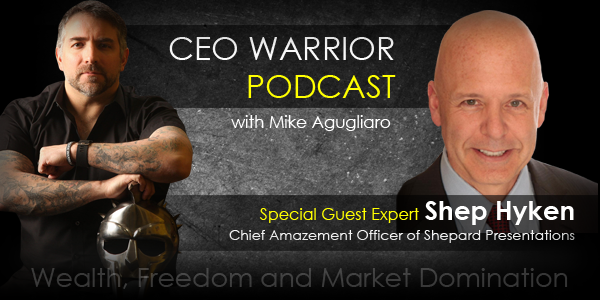 Summary: 
In this week's episode of The CEO Warrior Podcast, Mike Agugliaro interviews Shep Hyken, who is a customer experience expert and the Chief Amazement Officer at Shepherd Presentations. Shep is a New York Times and Wall Street Journal best selling author and has been inducted into the National Speakers Association Hall of Fame for Lifetime Achievement in the Speaking Profession. He works with companies and organizations that want to build loyal relationships with their customers and employees. During this episode, Mike and Shep discuss where we stand as a culture when it comes to customer service, benchmarking with competition, millennials and the self-service revolution, customer service measurement, social customer service, and creating service awareness. 
Main Questions Asked: 
Where do we stand as a culture with customer service?
Is it good or bad that customers are comparing you to unrelated businesses?
Do businesses try to apply customer service techniques that don't fit their company at the right time?
Has the speed made it harder to service people faster?
How can someone get started?
How has the internet changed dealing with customer satisfaction?
How do you keep customer service alive?
Is there a point when you are done?
Will customer service be tougher with millennials?
What is the future of customer service?
What do we need to avoid when it comes to customer service?
Key Lessons Learned:
Benchmarking With Competition 
Customers typically compare you to your competitor and unrelated businesses.
Comparisons to unrelated businesses force businesses to up their game.
Most people have a hard time taking away lessons from other businesses.
Aspiration to do what others do is copycatting. Figure out what you can do that incorporates some of what they are doing in order to be competitive.
Why do business with you if you are simply copying someone else?
The internet has commoditized businesses to where we compare on price.
When it comes to B2B, it's not always about the best price but rather value. 
Speed of Service 
It takes an average of 5-7 hours for a customer service email to get a response.
Instant online chat has aided customer service, taking correspondence timeframes from hours to minutes.
A virtual chat assistant is automated, but often you can't tell if the responder is a computer or person. 
Customer Service Measurement 
NPS (net promoter score) is a one-question survey, "On a scale of 1-10, what is the likelihood you would recommend us?"
9-10 is someone who is willing to promote you.
7-8 is passive.
<6 is a detractor and will talk poorly.
The follow up question is, 'Why?'
6 Steps To Making Outstanding Customer Service Happen 
This is philosophy, not a department just for the front line.
Create a service culture in your business.
Define it.
Ideally, it will be defined in a way that the average employee will understand.
A great way to define customer service in an understandable way is to make it one sentence long.
Communicate it well. 
Train it. 
Demonstrates it.
Show how it needs to be done.
Stoop to excellence.
Get it back into alignment. 
Celebrate when it works.
Remember, simple doesn't mean easy! 
The Internet & Customer Service 
Thanks to the internet, the voice of the customer is now extremely loud.
There are a number of formal review sites including Yelp and TripAdvisor.
It is crucial to monitor what is happening on the internet with regards to your brand, social media, and customer service. 
Social Customer Service 
Social customer care isn't just about reacting to the negative things that are said about you.
If customers are voicing bad customer service experiences online, there is a chance they tried to fix things conventionally at first and failed.
Everything about you socially can be monitored. Start with Google Alerts, and put in the name of your company.
If you get a bad review, don't fight it in public. Acknowledge it, apologize, and take it offline.
Once the issue is resolved, go back on the social review site and thank the customer for the opportunity to fix the problem.
Negative social comments and adequate responses can become a positive PR opportunity. 
React to the Positive 
Most companies only react to the negative in what people say.
Also acknowledge and respond to positive comments and reviews.
Release content and value added before someone makes a comment. 
Creating Service Awareness 
Get everyone aware of when they are creating great service by sharing an outstanding customer service moment on a weekly basis.
This will highlight what good things are being done and can be added to the system.
Direct feedback is great, but if the company is large, you have to have an automated system.
Amazing vs. Wow 
Amazing is different than 'wow.'
Wow happens when there is a problem, and in isolated incidents.
Amazing happens all the time and is a little better than average all the time.
Great service is mistakes handled well. 
Millennials 
This generation has a different mindset and wants to feel appreciated at work.
Millennials prefer self-service and will opt for that in the first instance.
Thank you for listening! If you enjoyed this podcast, please subscribe and leave a 5-star rating and review in iTunes!
 Links to Resources Mentioned   
The Loyalty Effect (book)
Click to Tweet 
What are the 6 steps to making outstanding customer service happen? Find out w/ @Hyken @CEOwarrior https://ceowarrior.com
What does it mean to 'stoop to excellence'? Find out w/  @Hyken @CEOwarrior https://ceowarrior.com
 P.S. – Master your business, Master your life. Get a FREE Chapter of The Secrets Of Business Mastery Book!

P.S.S. – Keith says if you care about yourself and your family, and the people in your company, do this.