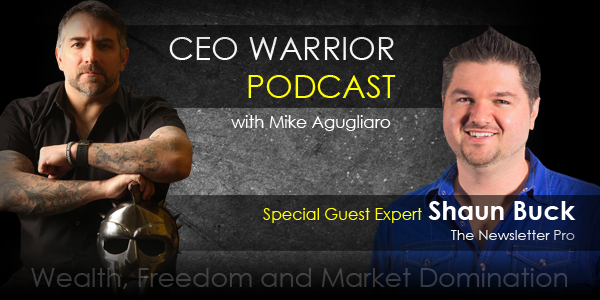 Summary:
In this week's episode of the CEO Warrior Podcast, Mike Agugliaro interviews Shaun Buck. Shaun Buck is the CEO of Boise, Idaho-based The Newsletter Pro, the largest custom print newsletter company in the world—printing and mailing millions of newsletters annually for diverse industries all over the globe. He is the co-author of No B.S. Guide to Maximum Referrals and Customer Retention.
Main Questions Asked:
What did you do to grow your business so much?

How do you guys deliver such great value?

How do you use newsletters to create emotional movement faster?

Why do you use so many different forms of media?

What kind of contests have you tried?

What kind of scalability challenges have you faced?

What are the top three things in the past you would change?

What are some changes you see coming in the business world over the next three years?
Key Lessons Learned
Business Growth
When your business is small, hyper focus on a single area is the fastest way to scale.

If you're building multiple products at the same time, you won't be able to give them each the attention they need to grow.

Build your relationship with your customer via lead magnets and small interactions before asking for the sale.

People buy when they are ready to buy, not when you're ready to sell. It can take months for some people, days for others.

Give people something they would be willing to pay for and give it to them for free.

Speed dating your potential hires can help narrow down the field very quickly.

Everything and everyone you bring one should be filtered through the lense of your company's core values.

If you can get your culture right, your team will move mountains for you.

You are often the main bottleneck in scaling your company, try to get out of the way as quickly as possible.

Work with partners that already have the customers you want to reach.

Lead with amazing culture.

Marketing is going to get harder, you will have to be more in more places at once to break through the noise.
Newsletters
Your cover story should be personal and connect with the people who are making the decision.

You can't be boring, people have access to an infinite number of distractions.
Retention
The majority of customers leave a company because they feel the company is indifferent to them. Relationships combat indifference.

Customers need to know who you are or remember who you are in order to do business with you.

Test your different media options, people will respond differently to different delivery methods.

Your on boarding experience has a major impact on how long a customer stays with your company.

Having a great presentation can reduce your customer attrition.

Your employees take care of your customers, take care of your employees or your customers will suffer.
Referrals
Retention and referrals are closely related.

You are combating forgetfulness, a consistent communication strategy is how you educate your customer and remind them to take up your offer.

Do what you say what you're going to do, on time, and on budget. The small slip ups can cost you big.

Satisfied customers don't refer, raving customers refer.

Stay in communication and ask for the referral.

Figure out how much money you can spend to get a referral. Referrals are usually more valuable than regular customers.
Final Tips
Make a conscious decision to focus.

Find out how long it takes for someone to buy from you.

Create raving fans, not just satisfied customers.

Stop being the bottleneck.
Links To Resources Mentioned
https://www.entrepreneur.com/author/shaun-buck
Thank you for listening! If you enjoyed this podcast, please subscribe and leave a 5-star rating and review in iTunes
P.S. – Are you SERIOUS about no longer treading water and MOVE your business forward WARRIOR STYLE? Find out more about Mike's Warrior FAST TRACK Academy!