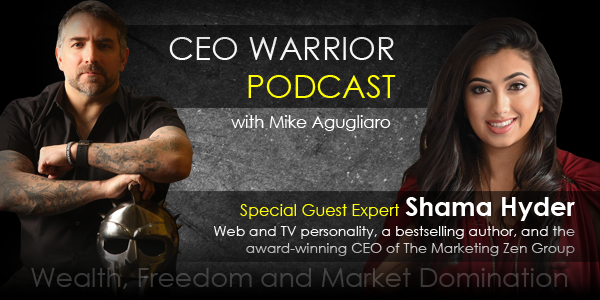 Summary:
In this week's episode of the CEO Warrior Podcast, Mike Agugliaro interviews Shama Hyder. Shama is the CEO of the award winning agency Marketing Zen Group, and is the best selling author of The Zen of Social Media Marketing and Momentum. Shama has been featured on MSNBC, Fox Business, Forbes, and the Wall Street Journal. Mike and Shama discuss marketing in the digital age.
Main Questions Asked:
What does it mean to market in the digital age?

What are the five principles of marketing in the digital age?

How do we put the five principles together?

What's the biggest mistake people make when it comes to marketing?

What's the most important aspect of a brand?

What are the different pieces of marketing in the digital age?

Does everybody need a presence in the digital world?

Do you have an example of implementing a digital strategy that changed the game for a company?

What is a good ROI for a digital marketing strategy?

What is something you want entrepreneurs to think about over the next few years?

What do you think the biggest trend in digital marketing will be over the next few years?
Key Lessons Learned:
Digital Marketing
The key to marketing success in the digital age is understanding the ecosystem.

New technology has changed the way we communicate and market to one another.

The five principles can be used by individuals and scaled up to larger organizations, it will depend on your marketing goals.

You have to ask the right questions if you want the right answers.

Consistency is the most important, without consistency you will have subpar results.

Brand can also be thought of "synonymous with…"

Tie in your brand into who your customers are.

The better you understand your audience the better your results will be.

The channels you should focus on are the channels your audience is using.

If you're choosing an agency, look for someone who is executing their own strategies.

Everyone has a digital footprint already, the question is do you want to shape it yourself.

Digital marketing is a long term strategy, not a tactical one shot campaign.

Video marketing is on the rise on most social media platforms. Augmented and virtual reality is also a potential explosive digital medium to use in the future.

Digital marketing should be the framework you base your traditional marketing around.

Becoming an expert in your niche will draw media coverage to your business.
Analytics
Are you making good decisions based off the information available to you?

Simple tools like Google Analytics are all you need.

Focus on key metrics like Bounce Rate and Traffic Sources, is your business optimized to align with your traffic?

You have data available to you, you just have to know where to look.

Your goals should determine the metrics you need to look at. Find the data that helps you answer your questions.

Look for patterns over a longer period of time, 30 days or more.

Split testing is a way to analyze your data and make better decisions.
Customer Focus
Your brand used to be about what it said about your business, today it should be about what your business says about your customer's personal brand.

Your business should be a way for your customer to showcase their own identity.
Integration
Digital and physical marketing have to work in tandem to create impactful marketing.

Customer's don't connect with a brand through separate channels, it's all one journey.
Curation
You don't have to be a content creator, you can be a curator and filter relevant content for your customer.

Pinterest is a good example of curation.
Cross Pollination
Don't view your assets in silos, look at opportunities to utilize things like your employees.
Reviews and Reputation
The results of a Google search about you is the new way people form an opinion on your business.

Be proactive about your reputation, cultivate good reviews.

How you deal with negative reviews and complaints can help or hurt your reputation more than the review itself.

Customer service is more than just another factor, it is the most important.
Final Tips
Business owners should focus on assembling a great team. Find partners that you can rely on and help you grow your business.

Pick one strategy or tactic and execute on it consistently.

Think about what your brand says about your customer's identity.

Focus on your online reputation.

Shape your digital footprint or it will be shaped for you.
Thank you for listening! If you enjoyed this podcast, please subscribe and leave a 5-star rating and review in iTunes!
Links to Resources Mentioned
The Zen of Social Media Marketing
P.S. – Are you SERIOUS about no longer treading water and MOVE your business forward WARRIOR STYLE? Find out more about Mike's Warrior FAST TRACK Academy!