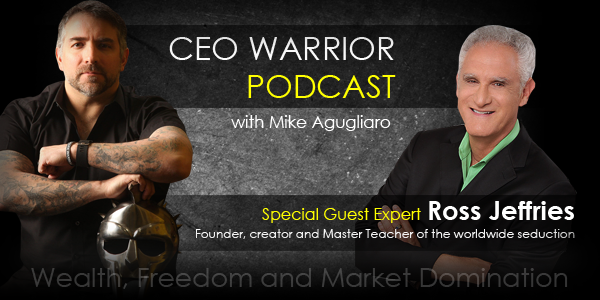 Summary:
Ross Jeffries has been described as a world leader in the subject of persuasion and seduction. Ross is a master hypnotist, transformation healer, and change worker and has been the subject of hundreds of television interviews and numerous documentaries.
Main Questions Asked:
[4:00] What is mindset and what are the biggest issues regarding mindset?

[6:35] Why would someone take on a good or bad mindset?

[14:10] Is it better for someone to be guided when it comes to mindset?

[20:10] Can you talk to us about dealing with judgement?

[25:50] What is persuasion?

[32:40] What are some of the things holding sales people back today?

[36:00] Is it beneficial to use reframing on a daily basis?

[37:10] What are some life and business success habits?

[40:40] What are some things people can do to improve their communication?
Key Lessons Learned:
Mindset
Sales and business are a lot like dating. Rejection shouldn't be viewed as a negative but rather a learning experience.

Mindset is a practice involving realistic motivation and informed enthusiasm.

Our actions are determined by our decisions, our decisions are based off the thoughts you have most often.

Transformational change happens when you can look at your beliefs instead of through them.

There are two sides to mindset, identifying your real motivation and taking on a learning framework. You need to understand the values that you're living for.

You should be interested in the operations of your business but invested in your own skills.

It's more effective to improve your mindset in a mastermind atmosphere.

All people are bound by language, it either freezes you or frees you. Use ownership language and claim your success.

Notice your progress in the difficult areas of your life.

Doing something ridiculous or absurd is a good way to reframe the way you think about things and your fear.

Rejection is an opportunity to get what you want or learn what you need.
Persuasion
Persuasion is the act of moving your prospect into taking the actions you want. It typically involves unconscious language.

Manipulation involves either coercion, misrepresenting or misstating facts, leaving our significant facts, or pushing on people's pain buttons. Manipulation and persuasion are distinct processes.

You are selling decisions and feeling good about those decisions.

Without the follow up and excellent service, persuasion is useless.
Sales
The tools and technology today have changed, most salespeople aren't playing the game right.

People are constantly distracted, selling involves getting them focused.

Your biggest competition is not your competitor, it's the distracted and overwhelmed state of mind in your prospect.

View your prospects as team members that you have yet to recruit.
Success Habits And Tips
Nearly all top performers have some sort of daily meditation practice.

Understand how you can give service to others.

Work on expanding your gratitude for the things in your life.

Get into a state of mind of curiosity about learning and about people.

Focus on the why instead of the how.

Develop your voice.
Final Tips
Become a mindset monster.

Establish a vision not based on emotions or time.

Reframe and change your language, claim your success.

Get in the right state of mind before communicating with others.
Links To Resources Mentioned
Thank you for listening! If you enjoyed this podcast, please subscribe and leave a 5-star rating and review in iTunes
P.S. – Seize SUCCESS today! Subscribe to HomeServiceMAX to see how the pros do it.