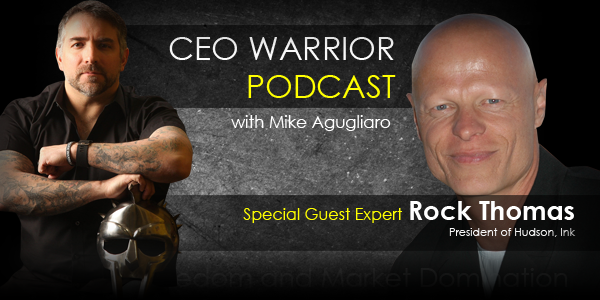 Summary:
In this week's episode of The CEO Warrior Podcast, Mike Agugliaro interviews Rock Thomas, who talks about goal abundance and surrounding yourself with real winners. Rock's resume includes real estate mogul, radio personality, author, and peak performance trainer. Rock is also the author of The Power of Your Identity, and is the CVO of GoBundance.
During the show, Mike and Rock discuss goalsetting, peer groups, wealth consciousness, charity and contribution, relationships, health, failure, and creating a baseline of improvement.
Main Questions Asked:
What keeps people hanging around non-positive peer groups?
Why is charity and contribution so important for entrepreneurs?
Do you see people waiting until they can do a lot instead of impacting a little?
How should people think around the word 'failure?'
How does someone create a baseline of improvement?
What have you experienced with the concept of happiness and passion?
Key Lessons Learned:
Goal Setting
67% of people make an effort to set goals, and of those, 10% put them in a plan, and only 2% of them put the plan into action.
You will never grow your financial capacity until you grow yourself.
Peer Groups
When you are surrounded by mediocrity, you become that through osmosis.
When you have positive peer pressure, it changes your life.
Your relationship with money is related to your wealth consciousness that starts in childhood.
When people feel a part of something, they will do more for others than they will do for themselves.
If you are not where you want to be in business right now, then the number one thing is to get yourself to a seminar, mastermind, or read a book and surround yourself with people who are excited about life.
Charity and Contribution
When you get to a level where your basic needs are met, you want to give back.
People often hold off on doing anything until they think they can impact a lot, whereas there is always scope to impact a little.
Relationships
Most men die earlier than women, partially because they don't share feelings and keep emotions bottled up.
If you belong to a group, you have more chance to thrive.
If you want to evolve, you have to stop acting like you're something better than you are, and just tell people who you are, and you will feel free.
Health
Use positive peer pressure as leverage to get in better shape.
Rock's tribe has zero tolerance when it comes to health goals.
Failure
There is no failure; there is only feedback.
You either win or you learn.
The feedback is in the form of learning.
The only way to fail is to quit.
If you are not a quitter, you will never fail.
You need a tool to feel good when things don't go your way.
Creating the Baseline
People know more of what they don't want than what they do want.
Most people don't take action, so the secret is to reward action.
Say yes, take action, get out of your comfort zone, and move forward.
When you track and see progress, you get more motivated. When you get more motivated, you have more results?
Happiness & Gratitude
95% of happiness comes from gratitude.
Most people look for what is missing, not at what they have.
Being grateful is a choice.
You can be grateful for your opponents and difficult clients.
You will never get happy 'thinking' your way to happiness.
The mind wasn't designed to make you happy, as happiness comes from the heart.
Meditation
Meditation is simply the slowing down of chatter in your mind.
Let your mind slow down and watch your thoughts.
When you slow your thoughts down, you will have access to the universal information.
Most of the conversations we have are fear-based, and meditation changes that.
Rock's Final Thoughts
Nothing in life has any meaning until you assign a meaning to it.
Thank you for listening! If you enjoyed this podcast, please subscribe and leave a 5-star rating and review in iTunes!
Links to Resources Mentioned
The Power of Your Identity (book)
GoBundance
Inside the M1
Rock Thomas
Rock@RockThomas.com
Click to Tweet Why are peer groups so important for business owners and entrepreneurs? Find out w/ @rockthomas @CEOwarrior https://ceowarrior.com
Failure doesn't exist, there is only feedback. Find out why @rockthomas believes this to be true w/ @CEOwarrior https://ceowarrior.com
P.S. – Master your business, Master your life. Get a FREE Chapter of The Secrets Of Business Mastery Book!

P.S.S. – Ron says you aren't successful until you go see Mike, and become a Warrior!  Warrior Fast Track Academy Testimonial.