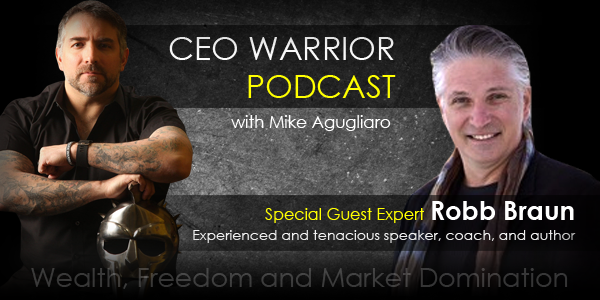 Summary:
In this week's episode of the CEO Warrior Podcast, Mike Agugliaro interviews Robb Braun. Robb has over 25 years of experience as a personal development professional and has talked to over 50 thousand participants in his seminars.
Main Questions Asked:
What is the problem today with employee engagement?

How can we fix a bad culture?

Do you have any examples of a culture that turned around?

What else plays a part in cultural leadership?

What are some big lessons you've learned about life in general?

How should someone deal the problems life throws at them?

What is the one thing that you want business owners to think about over the next few years?
Key Lessons Learned:
Employee Engagement
Most employees today aren't working with a sense of purpose.

Everyone needs to know why they do what they do.

All work involves two purposes, what the person is getting for them self and what they are contributing to the greater cause.

As a leader, how well do you really know your people?

Leaders should have an understanding of what motivates their team. They have to get to know them on a personal level.

Start with a simple survey like the Q12 to make sure your team has the basic tools and resources they need to succeed.

Engagement is when your team wants to follow you, not just goes along with you.

Engagement can be seen in the small details like how punctual someone is, whether they offer ideas to improve, they show genuine interest, or taking initiative.
Culture
A bad culture comes from the top down.

In order to fix a bad culture, a leader has to be open, vulnerable and willing to do what it takes to help change it. You have to communicate the fact that you care about your team succeeding.

A reset requires the employees and the managers to come together and get to know one another.

If a manager doesn't like the new direction the culture is going it's probably time for them to move on.

Schedule regular one on one meetings, monthly or quarterly, where the purpose is to learn about your managers so you can understand them. Think of it as discovery time. Take notes.
Team Building
Marketing involves building a customer avatar. The same principle can be applied to your team.

Your employee avatar should have the attributes that your team will need to succeed. This will help you find the right people in the first place.

Involve your existing employees in creating the avatar.

The wrong people not only hurt your business, they can hurt the best people already on your team.

You can have the right person in the wrong position.

If you have a hiring emergency you have already waited too long.
Wisdom
Don't let a moment go by without being present.

If you neglect your physical health, your wealth won't matter.

If your relationships are suffering, it will affect your business.

Work/Life balance is a myth. Be focused on work when you're working and your personal life when you're not. Don't be halfway.

There is no purpose to your life other than trying to live as fully as possible.

Don't live a lie, your life is too short.

Don't have the regret at the end of your life of a missed opportunity. Go for it.

Began each day with an attitude of success, choose to take on the obstacles instead of reacting to them.

When something really bad happens, don't get knocked out, step back and catch your breath, then get back into the game.

Don't try to go it alone.
Final Tips
Make sure your people are working with purpose.

Identify the pain in your company and listen to your team.

Ask for start over if you need to reset.

Have the right people in the right positions.

Be fully present in whatever you're doing.

Choose your attitude and swing for the fences.
Thank you for listening! If you enjoyed this podcast, please subscribe and leave a 5-star rating and review in iTunes!
Links to Resources Mentioned
P.S. – Are you SERIOUS about no longer treading water and MOVE your business forward WARRIOR STYLE? Find out more about Mike's Warrior FAST TRACK Academy!