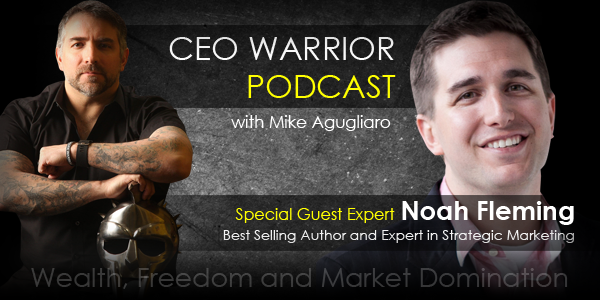 In this week's episode of The Secrets of Business Mastery Podcast, Mike Agugliaro interviews Noah Fleming, who is a thought leader in strategic marketing and customer loyalty. Noah is the trusted source for coaching and consulting to thousands of owners, executives, and individuals. He helps dramatically increase their sales, multiply their profits, and maximize customer value. In this podcast Mike and Noah discuss cultivating customer relationships, the concept of eternal business growth, and why customer loyalty is a misnomer.
Main Questions Asked:
Tell us about cultivating and how do we do it.
What are some of the tips and tricks of cultivation?
What's the next step after cultivation?
What kind of trends do you see going on today?
What do you do to manage your time to get greater results quicker?
Talk about calling past clients and what you should say.
Why do you think people don't call past clients, and what should they think to get past it?
What was your turning point?
What's the best advice you ever received?
What's the best advice you've ever given somebody?
What should business owners think about when they're thinking about wealth?
What should business owners think about freedom?
What are your thoughts on how to dominate a market?
Key Lessons Learned:
Cultivating Customer Relationships
Too many companies believe that the customer is expected to be loyal.
There is a misnomer in the phrase 'customer loyalty;' it's not up to the customer, it's actually up to the business owners to nurture, cultivate, and care for those customers.
Customer loyalty shouldn't be expected just because you provide good service or what is to be expected.
A 'lead' is worthless unless you are willing to take it from 'lead' to 'interest' to 'closing the sale,' and finally on to 'happily ever after.'
Noah tries not to use the term 'closing the sale' because you don't actually ever 'close' the sale. You make the 'first sale,' but that is just the beginning of the process.
Too many companies believe that once they close the sale they are moving on to the next 'new blood.' What happens is that everyone you've 'closed' is left to fend for themselves.
The 3 Cs of Evergreen Companies
Character
Figure out why you do what you do.
Character is like positioning on steroids.
Customers want to connect with a brand, story, message, or person.
Character is about developing your marketing to perpetuate your story.
Community
The best companies in the world are building a strong sense of community amongst their customers.
Content
This is the thing we give in exchange for money, and is your core product or service.
It is inevitable that there is someone else out there competing with you, that can do it just as good or better, so you need to think of other ways to engage and build the emotional attachment.
Trends
The 'new customer' mindset is an addiction.
The current trend is for businesses to think they need to be everywhere on all social media platforms, but really they need to focus on the ideal customers and figure out where they are.
You can't be in the one-time transactional business; you have to be in the lifetime transactional business.
You are going to get better results when you do the classic thins like pick up the phone can call people and send a hand written letter.
Managing Time
Noah manages his time with a Filofax and calendar, and schedules all the little tasks that need to happen.
Break down tasks into small, simple actionable steps and schedule them into your day.
Calling Past Clients
The biggest reason people don't do this is because they are afraid of rejection.
If you sit back and listen, you will learn why they stopped doing business with you.
Lost clients often hold the key to saving existing clients.
Best Advice
Write your own paycheck.
There is no life balance there is life integration (Tony Robbins).
Invest in yourself.
An Abundance Mentality vs. Poverty Mentality 
Do you reach for the bill? Do you tip well?
Do you invest in yourself?
The more you give out to the world, the more it comes back to you.
Freedom
Invest your dollars to free up time to do what you want to do.
Where do you need to get help? Find out and outsource.
Dominating A Market
The concept of thought leadership is applicable to any industry, so you need to be the dominant thought leader in whatever you do.
Thought leadership means provocative material, interesting content, and everything done on a regular continuous basis.
Thank you for listening! If you enjoyed this podcast, please subscribe and leave a 5 star rating and review in iTunes!
Click To Tweet
Do you expect your customers is to be loyal? Find out why you shouldn't w/ @noahfleming @Service_Key https://secretsofbusinessmastery.com
Do you love 'closing' a sale? Find out why you should 'cultivate' instead  @noahfleming @Service_Key https://secretsofbusinessmastery.com