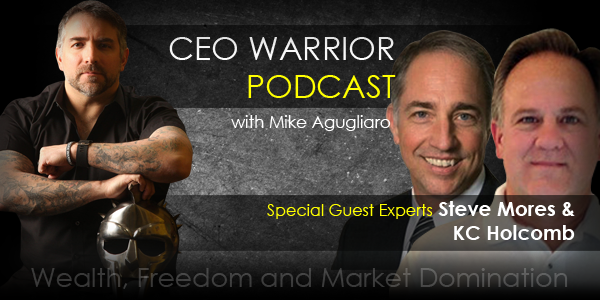 Summary:
In this week's episode of the CEO Warrior Podcast, Mike Agugliaro interviews Steve Mores and KC Holcomb. Steve Mores is the Vice President of Residential Sales for Dynamic Air Quality Solutions, a position he has held since October 2009. KC Holcomb has been on a mission to train plumbers, technicians, and HVAC owners how to fix the water that broke the system. KC is currently the national sales manager for the US Plumbing Division of Canature Water Group, which offers innovative water treatment solutions to consumers.
Main Questions Asked:
Tell us about the strategy of combining two different vendors and products into one cool idea.

How do you create outside the box thinking?

Let's think of a problem within the service industry and brainstorm about it.

What are your thoughts on success and ego?

If you could tell entrepreneurs to think about something over the next few years, what would it be?
Key Lessons Learned:
Creating A New Product
Cross training your employees can lead to new innovative products.

Learning the technical aspects of another related industry can show you new ways to look at your own business.

Air quality and water quality are very complimentary industries.

All homes can benefit from better air and water quality solutions.

Your ideas are only as good as your execution of them.

A new idea should be backed up by a plan with set dates and goals to achieve it.
Thinking Outside The Box
A variety of perspectives can lead to new ideas that you couldn't see before.

Thinking outside the box is easier to say than to do. It's a skillset you have to work at.

Thinking outside the box starts with getting outside the box, get outside of your industry and expose yourself to new ideas.

Brainstorming sessions (red light/green light sessions) are great for synthesizing new ideas. Tap into the creativity of the other people on your team.
Brainstorming Session
Most plumbers/technicians should consider the experience they are providing for their customers. The perception at the moment is typically the "fix it and get out of the way" mentality.

Technicians don't realize their worth. They can take the role of the trusted advisor. Incentives should align with that mentality to encourage better relationships.

How can we affect the perception of the buyer? A video interaction before they call. Take what they expect, the butt crack perception, and turn it on its head. Set the tone of the call with your dispatcher, educate the homeowner about what they can expect which is more than just a quick repair job.

Humour can be a good strategy for building a connection.

An introduction video or guide that educates the consumer before the call.

Experts are empowered individuals, technicians just fix stuff.

Set the stage during the interaction that makes selling your services easy. Share your knowledge and the reasons why the technician was required in the first place.
Serving Versus Selling
Communicate well, be friendly, and have your customer's best interest in hand.

You should work with your vendors as partners and try to create win/win situations.
Leadership
Leaders should:

Seek to become a better leader.

Train others to be leaders as well.

A leader should give his employees the tools and the culture they need to succeed.
Success
Know your capabilities and what you're comfortable with.

Success in business can lead to complacency.

Humility is the most important trait if you want your business to grow.

It's common for your ego to get bigger when you become successful, stay humble and stay hungry.
Final Tips
Have a passion for what you do and do it to the best of your abilities.

Fix yourself first so that you have the energy and excitement to build something great and inspire others.

Partner with your vendors, serve each other to grow.

Get outside your environment in order to think differently.

Become a better leader, and build leaders.
Thank you for listening! If you enjoyed this podcast, please subscribe and leave a 5-star rating and review in iTunes!
Links to Resources Mentioned
Steve's phone number: 630-417-4998
KC Holcomb's phone number: 630-460-7928
P.S. – Are you SERIOUS about no longer treading water and MOVE your business forward WARRIOR STYLE? Find out more about Mike's Warrior FAST TRACK Academy!