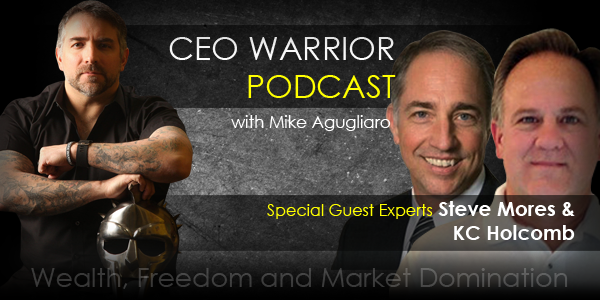 Summary:
In this week's episode of the CEO Warrior Podcast, Mike Agugliaro, Steve Mores, and KC Holcomb come together to talk about building bigger and better service businesses. They cover mindset, subtrades, strategic models, how to create an amazing fall season, and how to grow your business faster with less stress.
Key Lessons Learned:
Mindset
This time is the best time to begin building a business.

People are investing more in their homes than before.

A negative or positive mindset becomes a self fulfilling prophecy.

You have to believe in the product before you can communicate the value of your product to the customer.

Water and air quality are going to become more and more important the consumers as time goes on.
Subtrades
Subtrades should be treated as a separate entity from your business's core trades.

Who is the owner within your business of each subtrade?

Subtrades should part of the anatomy of each service call.

Awareness of water and air quality issues is making those subtrades easier to sell.

The most common solutions that people look for today are insufficient compared to a solution that deals with the whole house.

Set your mind about which subtrade you're going to go after, build a strategic plan around it, get the mindset and believe in the product, set a target, find someone in your team to own the mission.

Have your technicians gather the evidence before making the offer.

Having the information about what could benefit your customer without sharing it with them is doing them a disservice.

Be the known expert in your market.

Educate your market in whatever form of media they are most comfortable with.

86% of the population are value shoppers, the only way the will buy from you is if you mention the service to them.

Build lifelong customers by offering the testing process for free.
Seasons
It's not that certain season have slowed down, it's just that what people want has changed.

Heating and cooling are directly affected by the season, water and air quality are always necessary.

Air quality indoors can be between 10x and 100x worse than outside air.

Plant a seed during the busy seasons that will flourish during the slow seasons.
Strategic Planning
Outsource all the components of your action plan that you don't have time to do yourself.

Automate as many of the processes in your business as you can.

Optimize the processes you already do in your business and do them more efficiently.
Thank you for listening! If you enjoyed this podcast, please subscribe and leave a 5-star rating and review in iTunes!