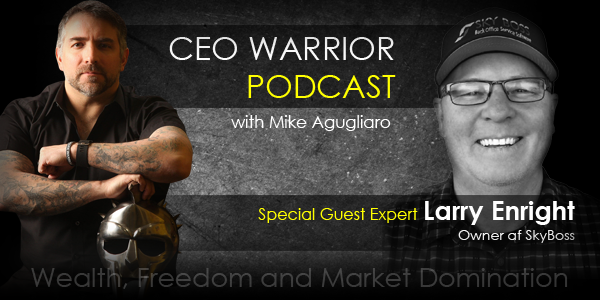 Summary:
In this week's episode of the CEO Warrior Podcast, Mike Agugliaro interviews Larry Enright. Larry is the mind behind Sky Boss, a cloud based back end office software tailored specifically for service based businesses.
Main Questions Asked:
What is the dilemma you discovered when talking to service companies?

Explain the importance of key performance indicators?

How do you see technology is going to change how we communicate with our customers?

What are your thoughts on some of the more cutting edge technologies?

What did you learn about finding great opportunities?

How do you manage the entrepreneurial mindset?

What kind of tools do you use to manage your time?

What kinds of things would you tell business owners to stop doing?

What would you tell business owners to think about for the next few years?
Key Lessons Learned:
Building Systems
Software developers don't really understand the tiny details that service companies need when it comes to software.

All service companies need systems, building them can be a challenge.

What worked before isn't very likely to work today or in the future, you have to be able to evolve and adapt.

Delegate tasks to people you trust. Think about how you can get something done faster, cheaper, or more effectively.

Eliminate the tasks that are the biggest time wasters, your time is valuable. Treat it that way.
Metrics
Most companies are unaware of their key performance indicators.

Numbers are how you benchmark things and then improve.

What gets measured gets managed.

How can you know where your company is going without knowing the numbers that indicate your progress.
Technology Trends
New technology will change the way we interact considerably.

Technology will advance, the question is will you keep up.

Look at technology and ask yourself how you can incorporate it into your business.

Having a Facebook page is only the first step, you have to take action.

What used to be thought impossible is now commonplace, you can't rule out everything when it comes to new technology.

Customer data has become more important to success.
Mindset
Mindset is more than setting a goal, you have to believe you will achieve it too.

Many people don't know what being truly focuses actually means.

Your experiences up to the age of 16 determine your operating system for life.

You have to commit to change and embrace it. Don't fear the technology, give it a chance because the upside is so high and the downside is so low.

Build the relationships and the money will come.

Entrepreneurs are builders.
Advice
Don't read the whole book, stop and then implement.

Stop procrastinating.

Change is coming, be ready for it.

Prepare for the future.

Be a part of something larger than yourself.

Take massive action.
Final Tips
When writing an email, tell the person what you want them to do.

Don't reject what you don't understand.

Have patience, changing something like a business takes time.
Links To Resources Mentioned
Thank you for listening! If you enjoyed this podcast, please subscribe and leave a 5-star rating and review in iTunes!
P.S. – Are you SERIOUS about no longer treading water and MOVE your business forward WARRIOR STYLE? Find out more about Mike's Warrior FAST TRACK Academy!