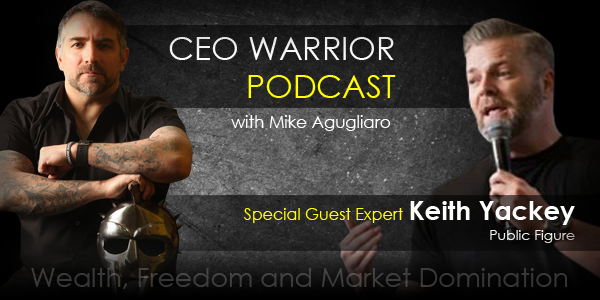 Summary:
In this week's episode of the CEO Warrior Podcast, Mike Agugliaro interviews Keith Yackey. After the death of Keith's mother, he decided to live his life with no regrets. He went on to create an 8 figure investing firm and then started an online education company teaching others how to get investors for their deal. Keith helps others learn how to make money online from A to Z.
Main Questions Asked:
What is going on today with people and their fears and dreams?

What does your Amplify message mean to you?

Can people return to the passion they had at the beginning of their business?

What should someone do first if they want to try something new?

What are some of the biggest lessons you've personally shared over the last few years?

What are some of the biggest pains you've had people share with you?

What are some stories we tell ourselves?

What is something you want entrepreneurs to think about over the next few years?
Key Lessons Learned:
Achieving Your Dreams
People can be afraid of achieving their dreams. The imposter syndrome creeps in and then we ask the question: "Who am I to do big things?"

We begin building the story we tell ourselves when we're young.

Seek to live your life with no regrets. We are all mortal and time is short.

People are generally looking for two things, freedom and purpose. Your life and your legacy should be about more than just money.

Remember the reasons why you started on your path. Remember how you felt and why you were excited.

Go for small victories to get the momentum going again.

Look for an opportunity to start fresh.

When you love what you do, it doesn't feel like work. You can become tired in the midst of it, but you won't get tired of it.

Be passionate about fixing people's problems.
Amplify Experience
The Amplify Experience is about throwing off your fears and chasing your dreams.

It's a program for taking your life and your business to the another level.
Regret
To avoid regret you have to know what you enjoy and what makes you happy. Many people don't fully understand what actually brings them joy.

We limit ourselves, we believe things are impossible because it allows us to stay in our comfort zone.

Be grateful for the simple things in your life.

Consider the staggering changes that have happened in modern society in the last 100 years. So many things that were previously unthinkable are now common occurrences.

Ask yourself honestly, is there something you want to accomplish that you're afraid to admit?

Set your goals high, even if you don't reach them you will still end up in a better position than if you didn't try at all.
Trying New Things
First, ask yourself what brings you the greatest joy.

Second, look to see if there is anyone currently making money doing any of those things right now. 99% of the time, someone is. Go learn from them and become the expert.

Third, go volunteer with them if possible. Learn about it from the inside. You will learn whether or not you want to pursue it but you will also see opportunities that have yet to be taken advantage of.

There is a lot of misinformation online about how to make money, you should look for the people who have actually accomplished something to learn from.
Golden Nuggets
Really listen to what your customers have to say. Find out what's working and not working, what they like and don't like.

In any business, your story really matters.

People are often not self aware, skills you may take for granted can be very valuable to other people.

You are unique and have a perspective that matters. Just because someone else is doing something already doesn't mean that you can't also make an impact in that space.

People will resonate with you when you're authentic. Don't try to be what you think people expect you to be, just be yourself. Be fearless and live your authentic truth. Don't try to be all things to all people.

If you take a stand, you will polarize people. Some will love you and some will hate you.
Final Tips
Remember what caused your passion in the first place.

Discover what brings you the deepest joy.

Everyone is good at something.

Don't try to be something you're not, do your thing your way.

Ask yourself what your limiting beliefs are that are holding you back.
Thank you for listening! If you enjoyed this podcast, please subscribe and leave a 5-star rating and review in iTunes!
Links to Resources Mentioned
P.S. – Are you SERIOUS about no longer treading water and MOVE your business forward WARRIOR STYLE? Find out more about Mike's Warrior FAST TRACK Academy!