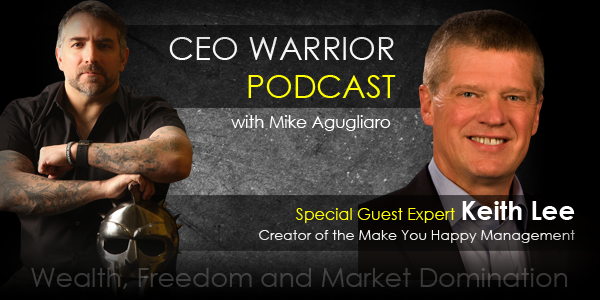 Summary:
Keith Lee started as a sales rep in 1978 and worked is way up to the top of the business, eventually buying out the company and then selling it for millions a few years later. Along the way he started four other businesses.
Through the 1980's Keith grew what would become American Retail Supply, feeling like he had become a slave to his business. As a business school graduate, Keith learned that business school is nearly worthless when it comes to actual doing business.
He built the Make-You-Happy Management System and now helps other business owners build better businesses and reduce their stress by focusing on continuous improvement, whether you're there or not.
Main Questions Asked:
Tell about the point when you were thinking about throwing in the towel?

How should a business owner identify the problem they should be working on?

What documentation should a business tackle first?

How much value do systems add to a business?

How do you make sure the systems are on track?

How do we create an ownership style of management?

What are some things you see changing in the next few years?

What should every business owner think about for the next three years?
Key Lessons Learned:
Management Styles
Most management philosophies don't apply to service businesses, quality management makes more sense for manufacturers. You have to get buy in.

Reviews are less effective than a personal development interview. Developing your team gets them empowered and invested. Personal development interviews should occur fairly often, more so if the position has a lot a space for improvement.

Always ask what was broken, and how did you fix it.

As a manager, your responsibility is to make the job easy to do right instead of easy to do wrong.

There are three styles of management:

X-Theory: I'm the boss, I know everything.

Y-Theory: Management by objective.

Z-Theory: I know a lot, but so do you. Problem solving together instead of top down.
Systems
Systems empower people to help you. The systems should be structured by the people who are involved in the execution.

Systems are simple, they are basically a written document about to do something.

Systems begin with good customer service. The small repetitive details are what make up excellent service.

Nearly 80% of the activities in a business a common to all businesses, most only require small tweaks to apply them to your business.

Once your processes are documented, hiring and firing are no longer so much work.

Exiting a business is essentially the process of creating systems that allow the business to run without you, once the systems are in place you won't need a five year plan.

If you encounter an issue, always ask what is wrong with the system first.
Customer Service
Excellent customer service means servicing everyone involved in the business, internal and external.
The Future
Systems and personal development interviews will be evergreen and always be valuable.

Marketing will always keep changing as technology changes.

Customer service will be the difference between being around for years or not. People will rarely give you a second chance.

Build your team and make them feel important. Expect them to make things better and empower them to do it.
Final Tips
Document everything, that's how you build success systems.

Get rid of reviews, start developing your team.

Empower your team.
Links To Resources Mentioned
www.howtocontrolyourbusiness.com
Thank you for listening! If you enjoyed this podcast, please subscribe and leave a 5-star rating and review in iTunes
P.S. – Are you SERIOUS about no longer treading water and MOVE your business forward WARRIOR STYLE? Find out more about Mike's Warrior FAST TRACK Academy!