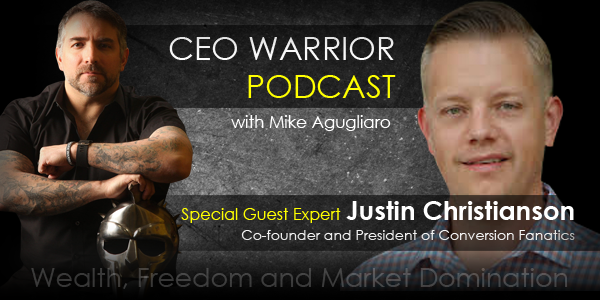 Summary:
In this week's episode of The CEO Warrior Podcast, Mike Agugliaro interviews Justin Christianson. Justin is a father, husband, speaker, and entrepreneur. Justin is the best selling author of Conversion Fanatic and the co-founder of conversionfanatics.com.
Main Questions Asked:
What is the big issue facing companies when it comes to conversion optimization?

Why is it important to know your marketing metrics?

How do we get started with tracking?

What is optimizing?

Where should we start to begin optimizing?

What are some of the hurdles you've noticed in the business world?

How do you manage and avoid distractions?

Are there any productivity tools you use?

What are some of the things in technology we should be paying attention to?

How has communication changed?

What would you tell entrepreneurs to keep in mind for the next few years?
Key Lessons Learned:
Digital Marketing
Small companies can beat bigger companies with a good strategy.

The internet has leveled the playing field.

Digital marketing evolves rapidly, it's easy to fall behind.

You have to market by the numbers.

Traffic is the first important factor, optimization is the second.

Without optimizing, the traffic is wasted.

Quality content is what drives social engagement.
Tracking Metrics
If you're in business without tracking your important metrics, you probably bleeding money.

Google Analytics is free and available to everyone that can track all your important metrics.

Two metrics are especially important to your business.

How much does it cost to acquire a lead/customer.

How much are those leads/customers worth.

The company that can spend the most to acquire a customer will win.
Optimizing
Testing your business practices to reduce the cost to acquire a lead can mean the difference between success and failure.

Optimizing means finding the path of least resistance for your customer. Removing friction points.

The better you understand the needs and wants of your customer, the easier it is to optimize.

Split testing means testing your assumptions about what works.

You can split test virtually anything. Headlines, colors, wording, button placement.

Small changes can create a huge return on investment.

Sometimes optimizing can involve reducing your system and simplifying instead of trying something new.
Getting Started
Analyze your current metrics.

Analyze how users are interacting with your site with heat maps and conversations.

Create a hypothesis and begin testing different variables.

Track the results and implements what works.

Continue testing forever.

Try not to overcomplicate things.
Difficulties
Hire slow, fire fast. Finding the best people is vital.

The difference between an A player and a B player can be huge.

Hire before you need someone.

Effective communication is one of the most important factors between clients and within an organization.

We live in a noisy world, avoiding distractions is as important as doing good work.

Reduce clutter, physically and digitally.

Ad costs are rising, you have to consistently optimize your marketing message in order to stand out.

Sometimes the most difficult times occur right before you succeed.
Tools
Writing by hand can help you form ideas.

Slack can help your team stay on track and communicate with each other.

Social media, whatever network your avatar is on, is the easiest way to create a connection.
Communication
Being available can make you stand out.

Use social channels to reach your customers in an approachable way.

Simple gestures like a phone call to a customer can make a major difference to your business.

Care a little more than everybody else.
Final Tips
Persistence pays off, don't let hard times stop you from achieving your dream.

Have an understanding of your important numbers. Test your assumptions. Measure your results. Test again.

Always be recruiting.

Deliver great quality content!
Thank you for listening! If you enjoyed this podcast, please subscribe and leave a 5-star rating and review in iTunes!
Links to Resources Mentioned
P.S. – Are you SERIOUS about no longer treading water and MOVE your business forward WARRIOR STYLE? Find out more about Mike's Warrior FAST TRACK Academy!

P.P.S. – Jeff feels this experience is going to improve his whole life! WARRIOR FAST TRACK ACADEMY TESTIMONIAL.