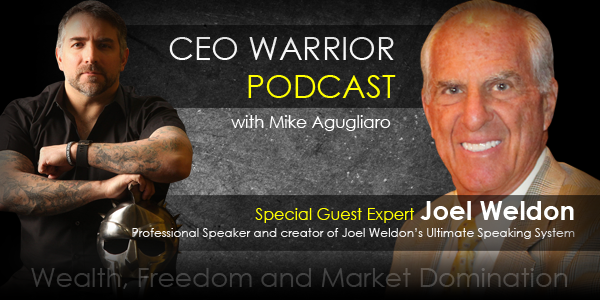 Summary:
In this week's episode of the CEO Warrior Podcast, Mike Agugliaro interviews Joel Weldon. Joel is a professional speaker that has been inducted into the Professional Speaker's Hall of Fame and has been paid to speak at over 3000 events. Joel has also trained and critiqued hundreds of other speakers and is the creator of the Joel Weldon Speaking System.
Main Questions Asked:
How did you go from being the worst salesman in your company to the best in a single year?

Why do people have a fear of speaking in front of groups?

How should technicians go about delivering a message to their customers?

How should people prepare for a talk and grow into an authority on a topic?

What happens when someone is speaking and something goes wrong?

What is the most important thing you've learned about speaking in the last 42 years?
Key Lessons Learned:
Creating a Winning Mindset
We become what we think about most of the time.

Switch your thinking to what you can do instead of what you can't do.

Entrepreneurs think differently, they want more from life and that's what sets them apart.

Even when you're good, there is always another level.
Public Speaking
Public speaking is the number one fear in America.

Toastmasters is the international group of public speaking coaches.

Speaking can grow your business, whether you're speaking to your employees or your customers.

Public speaking effectively is a learned skill that anyone can develop.

Speaking is not about you, it's about your audience.

Public speaking is not a performance, be yourself. Even a boring speaker can craft a message that takes advantage of their natural speaking style.

If you know something that people want to learn, you have something valuable to speak about.

If you weren't raised in an environment that encouraged you to ask questions and speak your mind, you might have a fear of speaking when you get older.

You need a system to organize your ideas, when you're prepared beforehand you're are much more comfortable.

Don't ever try to memorize, use notes instead. Trying to memorize a script will cause you to stumble and lose your train of thought.
Using Speaking to Grow Your Business
Speaking live is just a conversation that is held publicly.

Sharing valuable information with your customers that they are interested in via speaking is a good way to build trust and authority.

The more people see you and know you they will eventually like and trust you as well.

There are always opportunities to speak.

Speak to your audience about what they need in an organized way that they can follow and then get out of the way.
Preparing Your Message
The key to effective communication is to number the ideas in your mind and communicate them one at a time so they are easy to follow.

Write your ideas down in point form and number them. Go over them in order so it makes sense to your audience.

Move your ideas from your mind to your audience.

Having someone introduce you is how you establish your credibility and authority.

Use keywords to organize your thoughts so that you can deliver your message in a natural way.

The more prepared you are, the better your talk will go.
Joel's Speaking System
Joel's system is focused on the practical skills you need to use speaking to grow your business.

Fifty five tools in the toolbox. Nine audio messages on organizing your thinking and more. Twenty four hours of video on personal development, productivity, and more.

It's an online program and lifetime membership. For a single payment of $997 or four payments of $289, you have access to the entire system. Results are guaranteed.
Final Tips
Speaking is a learned skill that anyone can master.

When you become a better speaker and communicator it makes you a better boss, and better spouse, a better parent, and has implications for your entire life.

It's what you know that's important, it's not about you.

You become what you think about, what thoughts are you having that are affecting your life?

Introductions establish credibility.
Thank you for listening! If you enjoyed this podcast, please subscribe and leave a 5-star rating and review in iTunes!
Links to Resources Mentioned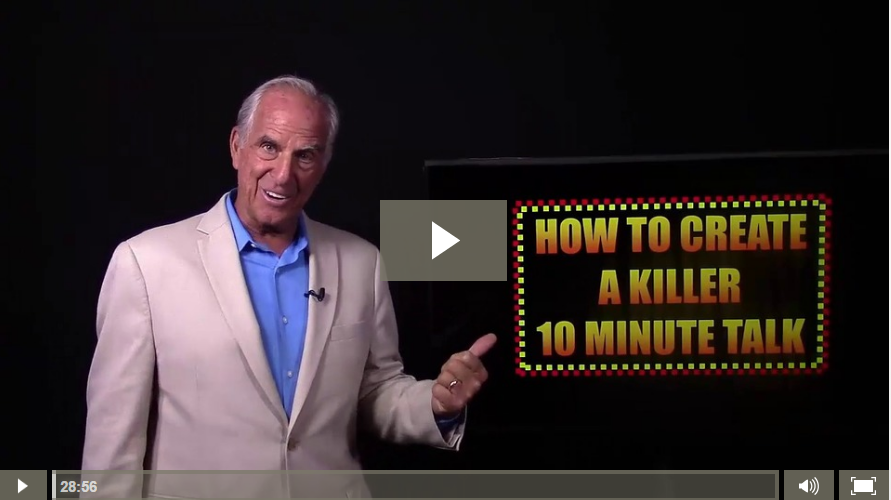 P.S. – Are you SERIOUS about no longer treading water and MOVE your business forward WARRIOR STYLE? Find out more about Mike's Warrior FAST TRACK Academy!