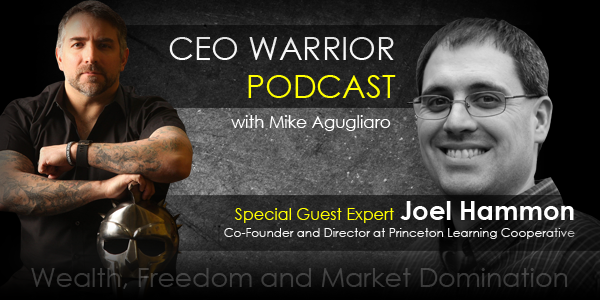 Summary:
Joel Hammon is the co-founder of The Learning Cooperatives, a group of self-directed learning centers in Pennsylvania and New Jersey. He is also the co-founder and president of Liberated Learners, an organization that supports educators around the world to create self-directed learning centers in their communities. Joel is the author of The Teacher Liberation Handbook that details how he left teaching in public and private schools after 11 years to create an educational alternative for young people.
Main Questions Asked:
What did you do previously, and what do you do today?

What do you think is broken in the current industrialized system of teaching?

Do you find that schools seem to be teaching children how to be followers instead of leaders?

Do you have any success stories you could share?

Could you share a little bit of the method you use?

What are some of the big belief changes or outcomes that you have seen?

Based on what you know now if you could go back in time what would you do differently?

What have you learned about the kids and their processes?

What would you share about how the people in the community that you've built help serve each other?

How much do you think dealing with peer pressure affects people's ability to learn?

Is there anything else you would like to share?
Key Lessons Learned:
Teaching
Forcing students to jump through hoops and learn in a way that doesn't inspire them ultimately hinders their education and growth as young individuals.

Teaching students how to learn using an entrepreneurial approach to their education shows them how to take control of their lives, choose their own path, and creatively find and digest the information most crucial to their success.

Nobody enjoys having their decisions made for them. Allowing and assisting people to do what they want instead of what they "have to" removes resistance.

Using the right language increases the effectiveness of the information you are trying to relay.

By creating a community of diverse learning, the people within that community end up "cross-pollinating" and become exposed to things they may not have even been aware of. Because of this they also have the opportunity to develop new interests that may have never been discovered otherwise.

Creating a welcoming and positive social atmosphere within the community removes tension and stress within individuals which may have had a negative effect on learning or social development.
Education
Getting an education doesn't necessarily mean you have to go to school or follow a traditional or formal path to learning. By focusing an individual's attention and time on learning about what inspires and comes naturally to them, it allows them to not only connect on a deeper level and also prevents stunting their growth.

You don't need to graduate from traditional schools to be able to do what you want with your life.

Your health and happiness directly affect everything else in your life. Including your education.
Final Tips
There are many different ways to get what you want out of life. It's ultimately up to you to figure out which way works best for you.

The power of learning what you're interested in instead of what you're being forced to can create an immensely positive effect on your happiness, ability to learn, focus, and absorb information.

It's never too late to ask yourself, "what do YOU want to do with your life?"

Taking care of your personal health and well-being should always come first. It will affect the rest of your life and everything you do with it.
Links To Resources Mentioned
Website:www.learningcooperatives.org
Email:joel@princetonlearningcooperative.org
Phone: 6098512522
Thank you for listening! If you enjoyed this podcast, please subscribe and leave a 5-star rating and review in iTunes
P.S. – Are you SERIOUS about no longer treading water and MOVE your business forward WARRIOR STYLE? Find out more about Mike's Warrior FAST TRACK Academy!