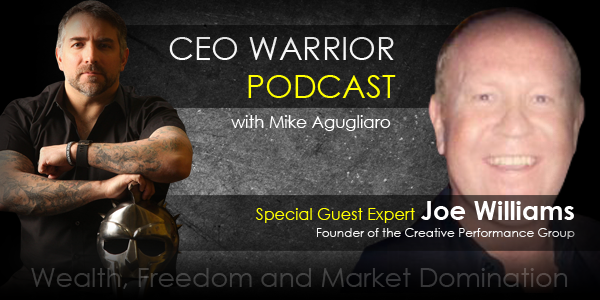 Summary:
In this week's episode of The Secrets of Business Mastery Podcast, Mike Agugliaro interviews Joe Williams who is an expert in the field of speaking and the power of communication. Joe is the founder of the Speakers Bootcamp and Creative Performance Group where he helps people get their message out to the world in the most powerful way possible. Joe has spoken at Anthony Robbins events for more than twenty years where he is also the senior head trainer. During the show, Joe will discuss the mistakes speakers make, how to prepare for your audience, tips and tricks for public speaking, and the three powerful rules for transformation.
Main Questions Asked:
What are some things people do when they are communicating and speaking that takes power away from them?
Where did fear of public speaking come from?
What has the fear of public speaking cost leaders?
What does being prepared look like?
Talk about speaking in a networking environment.
Is there a proper way to approach and engage with someone at a networking event?
Talk to us about the power of language.
What is the best advice you've ever received?
Key Lessons Learned:
As a society we have an innate human reverence for people who can speak to a crowd.
Public speaking is learned skillset that you will have for life.
Video is becoming a bigger part of how entrepreneurs build businesses.
Having the ability to speak publicly and hold a crowd is the ultimate advantage.
Learn to read the audience's body language as they are conversing with you.
In order to get where you want to go, you need to be willing to do what others won't.
Your ultimate resource is your resourcefulness, so make a commitment to be a lifetime learner.
We are all the product of the 10 people we spend the most time around.
Mistakes Speakers Make
Not putting in enough preparation.
Misusing PowerPoint and other visual aids.
Preparing a PowerPoint, and then standing and reading it. This makes you a soundtrack to what is up there visually.
Preparation
The work you do before you speak is 80% of the battle.
Before you speak to an audience, find out demographic information of who is in the crowd, such as the age and gender split.
In addition to demographics, you need to know the psychographics of the audience.
What does the group of people want, need, and what wounds they need healed?
A communicator's job is to move a group of people emotionally to do something differently in their lives as a result of the time they have spent with you.
Tips and Tricks for Public Speaking
Inject positive emotion into your presentation, such as hope and excitement.
Be yourself, but the self you are when you are at your absolute best.
Find your own unique style, strength, and stories so you don't come off looking like a copy of someone else.
How To Be Prepared
Rehearse your opening and closing, and always know what you are trying to accomplish.
Prepare and rehearse for the moment when the applause dies down.
Be driven by the result and outcome.
Look for key phrases and themes.
If you have a tendency to over-project, have a 'conversation with' rather than 'talking at' people.
Networking
Match the energy and style of the person you are talking to.
If you are talking to someone who is enthusiastic, then ensure you up your energy too in order to be in the same energetic state.
Be prepared with you elevator pitch.
2.5 shakes of the wrist is the right amount for a handshake.
The Power of Language
Words only take up 7% of the meaning of communication, 38% is vocal qualities, and the remaining 55% is body language.
Develop your own power vocabulary to start making it part of your habit. These power words will make you more powerful with others and with yourself.
Separate yourself from the pack and communicate powerfully.
3 Powerful Tools for Transformation
Emersion.
Spaced repetition.
Find a peer group that lifts you up.
Thank you for listening! If you enjoyed this podcast, please subscribe and leave a 5 star rating and review in iTunes!
Links to Resources Mentioned
mikea.ceowarrior@gmail.com
Click To Tweet
Do you have a power vocabulary? Find out why you should w/ Joe Williams & @Service_Key https://secretsofbusinessmastery.com
Want to be a great public speaker? Get tips w/ Joe Williams & @Service_Key https://secretsofbusinessmastery.com