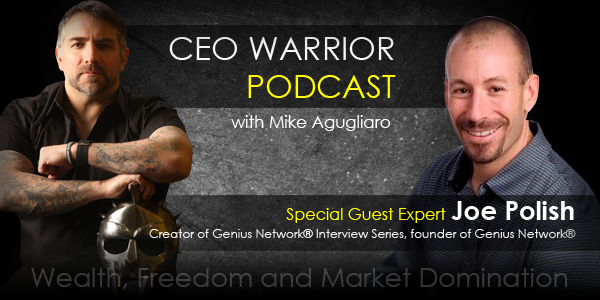 Summary:
In this week's episode of the CEO Warrior Podcast, Mike Agugliaro interviews Joe Polish. Joe is the founder and president of Piranha Marketing. He is also the founder of GeniusNetwork.com and co-founder of 10x Talk and I Love Marketing. His marketing expertise has helped his clients build thousands of businesses and generate millions of dollars in revenue.
Main Questions Asked:
What do you think the issue today is with entrepreneurs getting to the point where they are happy?

How do you go about building relationships?

What are some of the biggest things that are making you think differently today?

What are some fundamental marketing strategies we can use?

If you wanted entrepreneurs to think about something over the next few years, what would it be?
Key Lessons Learned:
Happiness Mindset
You need to set up defenses to protect your confidence, motivation, and attention.

A great mental attitude isn't enough to make you happy, you need a strategy to make your business work too.

A lack of money is a terrible source of anxiety, without control of your finances and business, happiness can be pretty difficult to achieve.

Knowing what to do to further your situation is the most important skill.

You need to understand your goals and then you'll see how you need to get there, you'll know what to do.

Life is not meant to be a struggle.
Marketing
Create an automated system that generates clients for your business.

If your business isn't working, chances are your life isn't working.

If you do not have a system for selling you are at the mercy of the consumer system for buying, which is price.

People do business with people they know, like, and trust.

Teach your audience how to make a buying decision and become the authority on your topic.

Consumers want to make an informed, intelligent decision, help them do that.

Education based marketing is a way build trust and make it easy and comfortable to do business with you.

Selling is influence, marketing is storytelling.

"Can and clone yourself"

Services should have a prerecorded message listed on their vehicles instead of a website.
Learning From Others
You can learn the hard way through experience or you can find someone who has the knowledge you want and learn from them.
Building Relationships
Your relationships are another form of capital.

Not having a boss can be great, but it can also be the worst since you have no one telling you what to do.

Cut your ties with dishonest, negative, and lazy people unless you want those qualities to define your life.

Your relationships should allow you to feel safe and confident to be yourself.

Relationships have to be developed and nurtured in order to grow.

Something as simple as a handwritten note can change the level of your relationships for the better.

Thank people for their business and they tend to want to do more business with you.

If you ignore the people in your relationships, they go away.

Put 5% more effort into the people you interact with. Make it a habit to say thank you.

Introvert or extrovert, everyone can improve how they interact with people.

If you give value to the people in your relationships, they will tend to offer you value in return.

For some people, you have to ask. If you've earned the right and built up the relationship capital, they should be happy to help.

If you're afraid to ask, imagine the worst case scenario. How bad is it actually?
Visions of The Future
Virtual reality, robotics, and artificial intelligence will change everything.

People will still want things cheap, fast, and in a large selection.

It's easy to get distracted by the big changes coming but it may be more important to pay attention to the things that won't change.

As we get more digitally integrated, physical human connections will become more important.

Take care of your health. Without your health, everything else in your life is worth less.

Focus your business on relationships instead of transactions.

Unlearn your bad habits before you learn new things.

Go deeper on the books and content that you've found helpful, seek mastery.
Final Tips
Don't be afraid to ask, what's the worst that can happen. "You miss 100% of the shots you don't take."

Focus on your health and having a relationship business versus many shallow relationships.

Unlearning is more important than learning.

Knowledge is everywhere, wisdom is how you apply it and change the game.
Thank you for listening! If you enjoyed this podcast, please subscribe and leave a 5-star rating and review in iTunes!
Links to Resources Mentioned