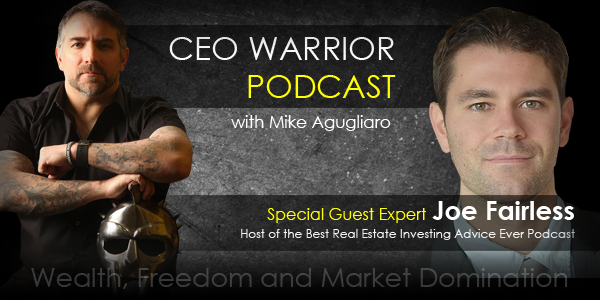 Summary:
In this week's episode of the CEO Warrior Podcast, Mike Agugliaro interviews Joe Fairless. Joe controls over $85 million of real estate, was the youngest VP at a NYC ad agency, and has raised over $1,000,000 from private investors for his first multi-family deal. Joe started the company Fairless Investing and now spends his time showing others how to create wealth and do more good in the world.
Main Questions Asked:
Why should somebody raise money, what should they consider using?

What should we think about when it comes to diversifying?

Have you had to deal with fear in your business?

What counts and doesn't count with brands?

Do you have any tips for closing deals?

What are the first steps for someone entering the world of real estate investing?

What is the one thing you want business owners to think about over the next two years?
Key Lessons Learned:
Raising Money
Start with the networks you are already a part of. Create a list of the people in those networks who may be interested.

Name check the people to build momentum and confidence in the deal.

Running a small business doesn't mean you have to be small minded about your potential.

Successful and profitable deals make finding investors easier as the same people will keep coming back for more.
Diversification
Diversifying your income allows you to invest your time more effectively in the things that you want to do.

Multiple streams of income after becoming the CEO of your business allows you to focus your time.

Depending on your time and level of interest, you can be involved in your investment actively or passively.

Feeling fear and uncertainty is part of diversifying. Stretching yourself by taking on new challenges and risks opens you up to new opportunities. Affirmations can be useful in building the confidence you need to take on the challenge.

Taking some risks will give you the experience you need to do better on the next deal.
Branding
Word of mouth is the number one influencer of purchase intent. Your business should be set up to promote word of mouth referrals and positivity.

Podcasting with guests is a very effective way of generating word of mouth.

Be a thought leader in your space and be good at what you do, start a conversation.

Create content that's beyond the scope of just what you do that get's people talking.
Closing Deals
Find the mutual benefit for both parties.

Take the time to get to know the other person and what they are looking for.

If someone is adamant on some detail of the deal that you can't work with, be willing to walk away.

Off market deals are often more profitable because a broker isn't involved.
Final Tips
The secret to living is giving, the more you give to others the more you will get in return.

Word of mouth should be a major priority in your business.

Do what you say you are going to do.

Focus on others by giving massive value.
Links To Resources Mentioned
Real Estate Investing For Dummies
Thank you for listening! If you enjoyed this podcast, please subscribe and leave a 5-star rating and review in iTunes!
P.S. – Are you SERIOUS about no longer treading water and MOVE your business forward WARRIOR STYLE? Find out more about Mike's Warrior FAST TRACK Academy!