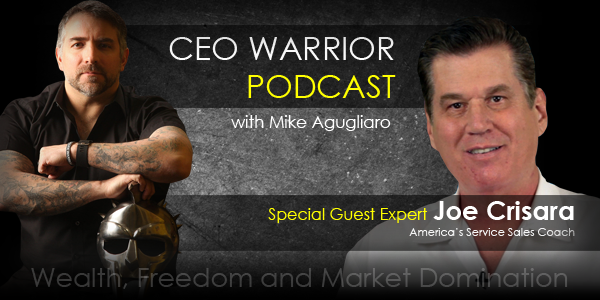 Summary:
Joe Crisara, America's Service Sales Coach is a world-wide sales educator and entrepreneur. Joe has a style that has you feeling like he is a member of your family or someone you met before. His down-to-earth, direct and impassioned approach combines 40 years of contracting experience with strong expertise in performing what he calls, "Pure Motive Service." Thus, anticipate hearing the thunderous ring of truth from Joe, who stands apart from traditional contracting training professionals as he helps contractors achieve revenues 3-5 times greater than the average person.
Main Questions Asked:
What is the problem that inspired you to create Pure Motive service?

What is an example of a premium service?

Why do some people feel bad about sales?

Have you noticed the tendency for service to be rushed?

Is recruiting tied into how your customers are being treated?

What is something you would tell people about developing employees?

What do you think is going in business and people's lack of drive?

What are thoughts on digital versus paper?

What would you want salespeople to think about for the next couple of years?
Key Lessons Learned:
Service
Pure motive service is about being a window into your services instead of a door, offering them multiple levels of service so the customer can choose.

Sometimes the challenges you face can be the biggest opportunities.

Great customer service is about focusing on what the customer wants instead of what you want to sell them. You have to release your needs from getting accepted.

Anticipate people's needs instead of just offering the minimum.

You are in the business of offering choices, not selling "premium" or "economy" services. Just doing what they've asked for is actually bad service.

Don't be focused on the money, focus on what you need to do to make the money.

Make your solutions personal.
Sales
The service industry has changed and is more focused on the financial side of the business.

Don't talk about how much your people fell short, talk about the safety and health of the customer and the quality and reliability of the service given.

Without the why behind the business, sales is a hollow process and your team won't be able to serve your customers as well. You need a higher purpose for the service you offer.

Higher revenue is a side effect of taking care of the customer's needs effectively.

Give your people choices and time to consider, pure motive service is not for everyone. The ones who choose will be aligned instead of frustrated.
Business and Recruiting
Success leaves clues.

You probably don't have an issue hiring good people, you have trouble keeping good people.

You need to build in a mindset shift into your training and take the B players and change them into A players.

Training is important, coaching and accountability is how you develop people once they are trained. Reward the people who perform well and exceed expectations and let the people who won't perform go.

Accountability is critical and doesn't have to be only negative.

Eliminate the choice of doing something wrong.

You're going to lose customers if you don't inspect what you expect.

Your employees need to choose to give good service, you can't force it.

Your delivery method isn't as important as the relationship you are building with your customer.
Final Tips
Release your need to be accepted.

Customize and personalize your service options.

Connect with your clients on a deeper level, use your services to solve their problems.

Have a higher purpose for the service you provide beyond the money.
Links To Resources Mentioned
https://www.contractorselling.com/public/CEOWARRIOR.cfm
https://www.facebook.com/ContractorSelling/
https://www.contractorsalescoach.com/
Thank you for listening! If you enjoyed this podcast, please subscribe and leave a 5-star rating and review in iTunes!
P.S. – Are you SERIOUS about no longer treading water and MOVE your business forward WARRIOR STYLE? Find out more about Mike's Warrior FAST TRACK Academy!