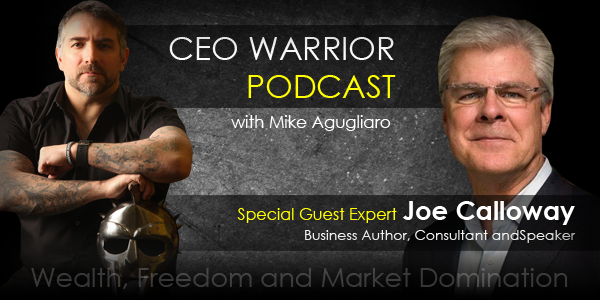 Summary:
In this week's episode of the CEO Warrior Podcast, Mike Agugliaro interviews Joe Calloway. Joe is a business author, consultant, and speaker who's worked with some of the biggest businesses around the world. He works with a range of professional service groups to help them  achieve their maximum potential. He's the author of Be The Best At What Matters Most and six other best selling books.
Main Questions Asked:
Why are people not realizing their maximum potential?

Is unlocking potential the hunger to always achieve?

What are the action steps you run your clients through to make it easier to do business?

How would you recommend an entrepreneur stay focused and on track?

Do people have a problem saying no?

What is the most difficult obstacle you've helped a company break through?

What role does the owner play in creating change?

What are two things you want entrepreneurs to think about over the next few years?
Key Lessons Learned:
Maximum Potential
Top performers are also the people who tend to improve the most.

Mindset is the common trait among top performers that drives success.

The greatest danger to your future success is your current level of success.

Complacency is the biggest barrier to continued success and improvement.

If you're successful, you know what used to work.

What got you to where you are may not get you to where you want to go.

The difference between successful people and very successful people is that very successful people say no to nearly everything. They focus on what's important.

Ask yourself "Are you better than the competition at what your customers would consider the core value of your business?"

"Where are you getting in your own way?"

"What is a recurring problem you deal with all the time?"

"What have you been doing for so long that you don't even question the process anymore?"

Be so good on the basics that you're cutting edge.
Disruptors
Disruptive companies always make it easier to do business which is a huge competitive advantage.
Making Business Easy
If you've ever thought "this is more complicated than it needs to be" there is opportunity to simplify.

When a business is struggling, business appears to be complicated. When a business is successful, it appears to be simple.

Simplifying leads to clarity.

Create a list of the three things you should do everyday and then execute.

Entrepreneurs have tendency to make things complicated. They love new ideas but that can easily distract them from executing.

Make your decisions about your priorities in advance.

At the beginning of the day, look at the list of tasks you have to do and choose their priority up front.
Company Culture
Communication and trust among the people within a company is crucial.

Everyone on the team has to buy into a common culture if a business is to succeed.

Look for the common ground that everyone shares on a team and use that as the foundation.

If your business isn't living up to the culture you say it has, it's actually counter productive.

You should curate your employees and your customers that align most with your company culture and ideals.
Leaders
The leader should have a deep understanding of the tactics but also needs to be removed from the process to make objective decisions.

Good leaders are empathetic.

Leadership is an art and a science, you can be great at the tactics and still be bad at the strategy.
Final Tips
Do some serious thinking and identify what matters most.

Take action, even if it doesn't work, you get information.

Don't do things the way you've always done it just because.

Identify your three priorities that ensure success and then execute.

Win on the basics.
Thank you for listening! If you enjoyed this podcast, please subscribe and leave a 5-star rating and review in iTunes!
Links to Resources Mentioned
Magnetic – The Art of Attracting Business
P.S. – Are you SERIOUS about no longer treading water and MOVE your business forward WARRIOR STYLE? Find out more about Mike's Warrior FAST TRACK Academy!