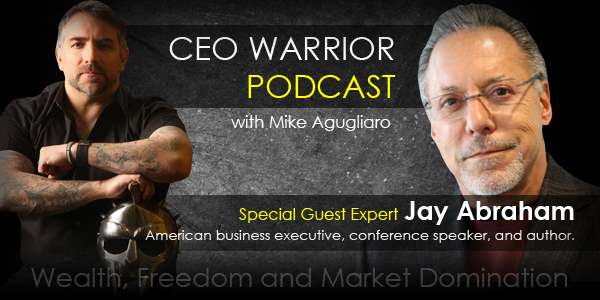 Summary:
In this week's episode of the The CEO Warrior Podcast, Mike Agugliaro interviews Jay Abraham. Jay is the Founder and CEO of the Abraham Group and has helped thousands of businesses in virtually every industry solve problems and increase their bottom lines.
Main Questions Asked:
● What's the difference between an entrepreneur that reaches their definition of success and an entrepreneur that struggles and can't seem to make it work?
● What does it mean to think differently and strategically?
● How do you build the skillset that allows you to think differently?
● What are the actions we should avoid doing?
● What are your thoughts on marketing today?
Key Lessons Learned:
Traits Of A Successful Entrepreneur
● Thinks, acts, and transacts differently.
● Operates from a strategic standpoint.
● Fanatically focused on value creation for their market and team.
● Is on a mission and can articulate that to their team to get them enrolled in their vision.
● Understands the difference between an entrepreneur and a proprietor.
● Understands that marketing, strategy, and innovation are the primary drivers of business.
● Seeks to be preeminent.
● Uses leverage to create an advantage and benefit for their market.
● Has alignment with other individuals and influencers who already have built up trust in the market.
● Understands how to build trust at the highest level.
● Understands their "why", their reason for doing what they do. The why is the driving force in their life.
● An entrepreneur isn't the tactician, they are the thinker that sets the strategy.
Thinking Differently
● Businesses and people tend to act more or less the same within a single market.
● We model and replicate what others do that works.
● Look outside your market for new ways to act, to reach people, to build relationships.
● A broad range of experience in different industries allows you to make connections that others can't see.
● Taking an approach or strategy from another industry and applying it to another can have exponential results.
● "The difference between mediocrity and making millions is your ability to think strategically."
How To Think Differently
● Don't keep doing what you're doing.
● Most entrepreneurs, when they are stressed or motivated, dig holes. You have to ask yourself some questions.
○ "Should I be digging a hole?"
○ "Should I be digging there?"
○ "What tool should I be using?"
○ "Should I be the one digging the hole?"
● Quantify your actions. What, where, how.
● Realize a business has two parts, what it's doing now and what it should be doing.
Analyzing a Business
● "You can't know where you're going without knowing where you are first."
● Quantify all aspects of your current business.
● Apply the 80/20 rule and figure out the parts of your business that are performing well and the parts that aren't.
● Reallocate your resources to the activities that bring the most results.
● Test your assumptions, run experiments.
● Find what works well for your business and maximize it.
Optimization
● Optimizing is the highest and best use of your time, resources, and efforts.
● Most people can't optimize until they have an understanding of how much more is possible.
● You must expand your worldview.
● You should look outside your industry to find best practices that you can combine into new innovations.
● Improve and optimize your current practices, free or generate additional revenue, then begin to look for replacement strategies that are better.
Researching Other Industries
● Engage your network. Collect and gather any ads, emails, trade journals, and experiences with other businesses that made them want to buy. Find out what works successfully for businesses outside your sphere of influence.
● Use the internet to research other industries. Learn how other industries do what they do, model what can be applied to your own.
Actions To Avoid
● Don't do anything tactically, tactics are small and erratic, act strategically.
● Focus your brand on helping others.
● Your message impacts those you come into contact with.
● Craft your message to make the world better.
● Be consistent with your message and unafraid to share it with the people you can help.
Greatness
● All human beings have a desire for greatness in all areas of their life.
● Only 1-2% of people manage to escape mediocrity.
● No one aims to generate 1/10th of their potential. We all want to maximize.
● Barriers to greatness:
○ No one has shown you what greatness looks like.
○ No way to see where they are now and where they want to go.
○ No way to see what they should be working towards.
○ Greatness is a process of improvement, if you aren't encouraged and motivated you won't improve.
○ You don't have someone that will hold you to the highest standard.
Marketing
● Most people are terrible at marketing. They market internally instead of externally, they confuse benefits and features.
● Marketing should focus on educating in a way no one else has.
● Marketing should add value to your relationship with your customer.
● Marketing should convey the transformation you are trying to provide.
● Use the language of your customers to craft your message.
Final Tips
● 98% of what happens to us are the results of our actions and choices.
● You are competing against your direct competitors, any alternative means, and against inertia.
● Be on a mission, be strategic, be the most trusted advisor in your industry.
● Always test and experiment.
Thank you for listening! If you enjoyed this podcast, please subscribe and leave a 5-star rating and review in iTunes!
Links to Resources Mentioned
The Strategy of Preeminence
Amazon.com
TED: Start With Why
Fifty Shades of Jay
P.S. – If you were waiting for the perfect time to seize this opportunity, the time is now. Read the Home ServiceMAX Magazine for FREE, today!

P.P.S. – John says get your ass off the fence and get here because it will change your world!  Warrior Fast Track Academy Testimonial.