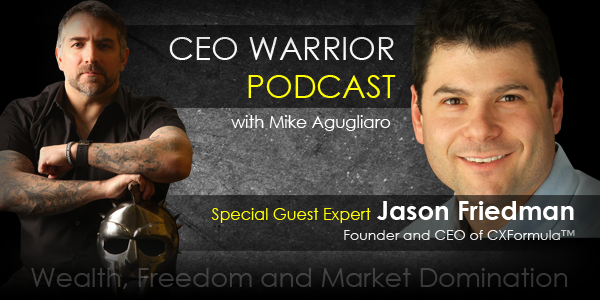 Summary:
In this week's episode of the CEO Warrior Podcast, Mike Agugliaro interviews Jason Friedman. Jason is the founder and CEO of CX Formula. He was named the Ernst and Young Entrepreneur of the Year for Business Services, and made the Inc 5000 list for three consecutive years. His clients range from Universal Studios to Wells Fargo and in 2008 Jason sold his first company for 8 figures.
Main Questions Asked:
What is the problem with businesses in how they treat their customers?

How can a business owner measure their customer experience?

How can a business know their customer experience is working?

How is the customer experience affected by a business's culture?

What are some things you learned from exiting so many successful businesses?

What is the one thing that you want business owners to think about?
Key Lessons Learned:
Customer Experience
Consumers are more intelligent with more access to information than ever.

Most satisfied customers don't say anything but there often isn't any relationship built.

A satisfied customer does not equal a loyal customer.

Word of mouth, referrals, and testimonials are transformative for a business.

Design the end of your customer experience first, then craft the journey your customer goes through from there. Write your ideal customer script first and use those words to create the experience.

Lay out and analyze the entire experience of your customer from the first point of contact all the way to support. Look at the whole picture and ask is each point necessary and a positive experience.

If you create a great experience you will leave your customer wanting more opportunity to work with you.

Don't always over deliver, over deliver strategically.

One of the most powerful transformations your business can have is when your customers and employees are grateful and love working with you.

Engineer Wow into your business, planned surprise and spontaneity will create great experiences within your relationships.
Social Media
Social media allows you to customize small parts of the customer experience.
Customer Focus
Understand your customer's goals, frustrations, and joys. That will be your experience road map.

Measuring positive experience impacts like reviews and sales are indicators your efforts are working.

Not every touch point is created equal, find the points that impact customers the most.

Employees are customers that work inside your business.
Company Culture
The most common complaint customers have is being treated indifferently.

You will never create a great customer experience if your employees are disengaged.

Start with Why, each of your employees should understand their Why in relation to the broader purpose of the company.
Building a Business
Looking at your business from a buyer's perspective can help you identify weaknesses.

Create systems that can transfer easily.

Even if you have no intention to sell your business, you can learn a lot by going through the motions.

Your vendors, affiliates, and joint venture partners are also potential customers.

Cultivate the relationship with your partners as well as your customers. Figure out opportunities to build their businesses as well.

Focus on value creation, create value for your customers and partners first.
Final Tips
Reverse engineer the customer experience.

Show people a path to the next step with your business.

Understand your customer's needs better than they do.

Focus on value for others first.

Create a Wow experience.
Thank you for listening! If you enjoyed this podcast, please subscribe and leave a 5-star rating and review in iTunes!
Links to Resources Mentioned
P.S. – If you were waiting for the perfect time to seize this opportunity, the time is now. Read the Home ServiceMAX Magazine for FREE, today!