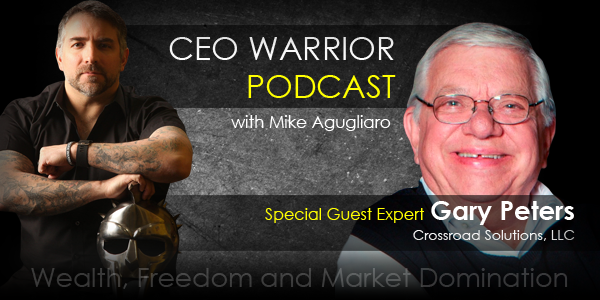 Summary:
In this week's episode of the CEO Warrior Podcast, Mike Agugliaro interviews Gary Peters. Gary has spent 55 years in the Mechanical and Construction industries. He started his own mechanical and electrical contracting firms, sold those, went on to create a hybrid firm specializing in high efficiency laboratories, clean rooms, medical research, and computing facilities. Gary retired in 2015 and still provides consulting services through Crossroads Solutions to large corporate clients, select contractors, and high tech startups.
Main Questions Asked:
What insights can you give for recruiting and hiring intelligent people?

What are your thoughts about leadership?

What's the difference between the education through training and the education through mentoring?
Key Lessons Learned:
Entrepreneur's Mindset
Business owners are so stressed, the mentor relationship has largely gone by the wayside.

Being an entrepreneur means constantly learning and always looking for new ways to differentiate their business.

Discipline to see things through is a key component.

Don't hide or run from your mistakes, find a solution and learn from them.

Look for knowledge outside of your industry. Train yourself and your people in the foundations of writing, thinking, economics, and executing.

Set aside an hour each day to read and learn.
Recruiting and Hiring
A large part of hiring the right people involves your intuition.

Ask them questions related to problem solving.

Try to discover the person's goals.

Understand where the person is coming from, boomers have very different priorities from millennials.

Aim for consistent performers, super stars tend to flame out.
Leadership
A leader should support the people on the front.

Ask for feedback from your team, evaluation goes both ways. It builds trust and knocks down barriers while giving your team a voice.

At some point, you may have to step down as the leader if you realize that the business has outgrown your abilities.

Everyone should have the opportunity to lead in some small way.
Training and Education
Your team should have opportunities to learn new skills and teach their skills to each other.

Training should be focused on the technical skills, mentoring means being there for your employees and helping them grow.

Everyone should be reasonably knowledgeable enough in the jobs involved in the work so that they can converse with each other.

As a consultant, you should be able to talk about your client's business from a knowledgeable perspective.
Final Tips
We need to attract new young people into the construction industry. Mentoring, teaching, and education needs to be a core part of our businesses.

Education never ends, always look for new learning opportunities.

Trust your intuition when it comes to hiring new people.
Links To Resources Mentioned
crossroadssolutionsllc@gmail.com
Gary's Phone Number: 203-885-4217
Thank you for listening! If you enjoyed this podcast, please subscribe and leave a 5-star rating and review in iTunes
P.S. – If you were waiting for the perfect time to seize this opportunity, the time is now. Read the Home ServiceMAX Magazine for FREE, today!