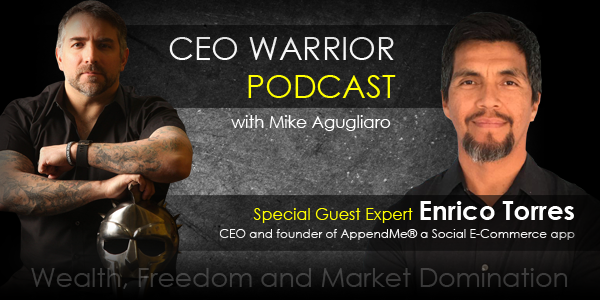 Summary:
In this week's episode of the CEO Warrior Podcast, Mike Agugliaro interviews Enrico Torres. Enrico is the founder of AppendMe, a new social sharing app for Android and Apple devices.
Main Questions Asked:
What is AppendMe?

What are some of your experiences where you've been taken advantage of?

What would you say about the hustle?

What would you say to the naysayers?

What can you tell us about finding great employees?

Give us some wisdom for dealing with customers.

What would you tell business owners to think about over the next few years?
Key Lessons Learned:
AppendMe
AppendMe is a social sharing platform with ecommerce and live streaming options coming down the pipe.

You can share media with people who don't have the app.

AppendMe was designed with combating online bullying in mind.

AppendMe takes the best aspects of social media, messaging, and ecommerce and puts them within one application.
Trust
Trust is crucial when interacting with other people or doing business.

Privacy is a major concern for many users of social media and companies often abuse that trust.

AppendMe has a focus on building the trust of its user base by vowing not to share user information.

How can you know where your company is going without knowing the numbers that indicate your progress.
Hustling
Success involves hard work, there is no getting around it.

Get up earlier than everyone else, work harder with the goal of doing an excellent job.

When you're inspired you will have a lot of energy you can use to push towards success.

We live in a time where anyone with a great idea and is willing to work for it can achieve it.

Don't let the people around tell you your dream isn't worth it, most people have no idea what will succeed. They are often afraid of their success or the success of others.

Don't die with regrets.
Finding the Right People
People will show you their attitude right away in the way the move and act and present themselves.

Create an atmosphere and attitude that moulds the behaviour you want to see.

The way someone treats their vehicle is an indicator of how they will treat company property.
Customer Service
Treat the customer with respect, build a relationship.

Don't overcomplicate it, do a great job and care about your customers.
Final Tips
Don't sweat the small things, focus on long term gains, and don't forget to live, keep family and friends a priority.

Be trustworthy and honour your word, trust will follow.

Get out there and hustle, hard work pays off.
Links To Resources Mentioned
Thank you for listening! If you enjoyed this podcast, please subscribe and leave a 5-star rating and review in iTunes!
P.S. – Seize SUCCESS today! Subscribe to HomeServiceMAX to see how the pros do it.