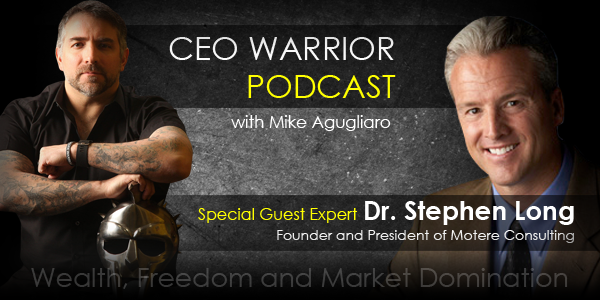 Summary: 
In this week's episode of The CEO Warrior Podcast, Mike Agugliaro interviews Dr. Stephen Long, who is the founder and president of Motere Consulting. Stephen has proven that strategic execution is a learned skill built upon inherent strengths. Through his work with champion athletes, top sales people, and corporate executives, Stephen has helped to permanently raise corporate and team productivity from adequate to outstanding. When applying Stephen's techniques, his clients average 115% financial improvement with a zero failure rate. During this episode, Mike and Stephen discuss teams, importance of strategy, execution IQ, behavioral analysis, mental toughness, management roadblocks, and relationship management. 
Main Questions Asked: 
What is happening with teams, and why are they struggling so much today?
Once we find out the management DNA, do we improve them or move them according to skillsets?
Where can people get started to get improvement on their team?
Are the dynamics and connection between the leader and manager important?
When you consult, is it a top down or bottom up approach?
When looking at teams from the top down, where do you find the biggest issue?
What are some of the common mindset and strategic roadblocks?
Do teams with execution issues stay within their ability and comfort zone?
Key Lessons Learned: 
Importance of Strategy 
When management isn't delivering results, it's not usually strategy that is the problem.
It has more to do with the management team and their capabilities to execute the strategy.
As long as the strategy is sound, it is more about executing that strategy.
Execution IQ 
This is a mindset and belief system that enables them to consistently execute.
People with execution IQ learn and adapt more efficiently and make better decisions overall.
Execution IQ is really about brain function.  
Analysis
Behavioral analysis provides a sense of awareness to people's strengths and weaknesses, as well as the roles they play.
It's crucial to know individuals' strengths and weaknesses, as well as the group as a management team.
The people can't outgrow the leader.
Stephen looks at the team from the top down, and then addresses the gaps within the system.
Identify the issues within the person, then within the management team.
Management Roadblocks                                                                                                                                         
Self-management and relationship management skills.
If a manager is unable to lead his or herself, then they will have a difficult time leading and managing others.
Exceling and mastering the self- management skills are important. 
Management Definitions 
Discipline: Willingness and eagerness to do the hard thing.
Confidence: Understanding the difference between what you can do and what you can't do.
False confidence: When people try to do things they are not capable of doing.
Mental toughness: The ability to maintain patience and persistence while everyone else is losing theirs.
Ethics: Doing the right thing when no one is looking.
Empathy: The ability to see things the way other people see them, regardless of whether they are right or wrong. 
Belief Systems 
Our belief system is so powerful it determines how we act.
You can develop a performance belief system that maximizes efficiencies in all business activities. 
Relationship Management 
This is how you interact and relate with other people.
Do you have the leadership and communication skills?
How do you bond with people?
What are your skillsets that enable you to get the most out of your people?
If you don't get the trust of your people, they will never buy in, and everything is compromised.
Everyone wants an authentic leader, but authenticity is an outcome skill.
Decisions should dictate your emotions, and not vice versa.
Thank you for listening! If you enjoyed this podcast, please subscribe and leave a 5-star rating and review in iTunes!
Links to Resources Mentioned   
719-532-0230
steve.long@motereconsulting.com 
Click to Tweet 
You need to learn to think in a way that is uncomfortable. Find out why w/ Dr. Stephen Long  @CEOwarrior https://ceowarrior.com 
Authenticity is an outcome skill. Find out why w/ Dr. Stephen Long  @CEOwarrior https://ceowarrior.com
P.S. – Are you SERIOUS about no longer treading water and MOVE your business forward WARRIOR STYLE? Find out more about Mike's Warrior FAST TRACK Academy!

P.S.S. – Scott says this is without a doubt one of the better seminars he's ever been to.