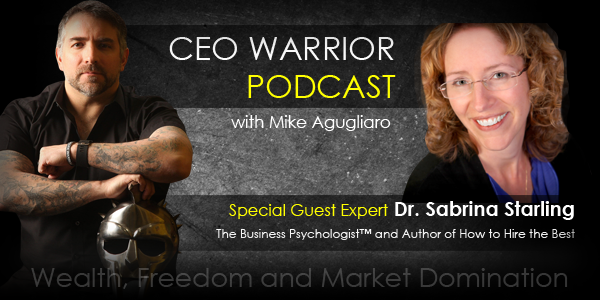 Summary:
In this week's episode of the CEO Warrior Podcast, Mike Agugliaro interviews Dr. Sabrina Starling. Dr. Sabrina is the author of How to Hire the Best: The Rural Small Business Owner's Ultimate Guide to Attracting Top-Performing Employees.
As The Business Psychologist, Dr. Sabrina specializes in transforming time and cash-sucking small businesses into highly profitable, great places to work.
Main Questions Asked:
What is broken in the world of finding great employees?

What do you need to know about top performers before hiring?

How do you find the right incentives?

Are there hidden A-players?

Does hiring A-players bring the culture up with them?

Where can we find A-players and should we profile people?

What is the one thing you would tell business owners about hiring A-players over the next three years?
Key Lessons Learned:
Hiring Great Employees
Many business owners stop the growth of their business because of the belief that you can't hire good employees.

Payroll is often a business's biggest expense, you have to invest in your employees to get a good return.

Start with your mindset, you have to believe you can find good employees. Change your mindset to hire up.

The typical hiring process leads us to hire a subpar employee about 75% of the time.

Hiring the wrong people can be very demoralizing for the business owner as well as the team.

Figure out the most important result a high performer has to bring and how it impacts the profits of the business before hiring. How will their results make or save money?

You have to know what your top three to five values of your business are before you can understand how a potential hire will fit into your culture. Identify your immutable laws by asking what pissed you off lately or what made you proud.

Resourcefulness is the final major trait of high performers.

B-players are sometimes A-players in disguise that may not have been in an organization that allowed them to flourish.

Top performers don't want to work with warm bodies. You have to tip the culture in the right direction by hiring multiple A-players at once.

Look at the growth you want to have and the roles that will be needed to fill, start building your network now.
Hiring Mindset
About 10% of the population are A-players. Nearly all of them are employed at all times. A single A-player is 9 to 12 times as productive as a warm body.

Start with your top performers that work for you already and tell them what you are looking forward. Offer an incentive for them to find other top performers that they know.

Ask them "Who comes to mind" after you describe the person you are looking for.

Keep in mind that skills can be trained on the job, personality strengths, core values, and resourcefulness can not.
Retention
Identify the exit points for your A-players and figure what can be done to shore up these points.

Learn from your A-players that have stuck around past those points.

Set the expectations and targets for multiple points in time, nurture the people that hit the targets consistently.

Expect to pay between 50-60% of average wages initially and then scale up to the top 90% of wages, weed out the people that don't achieve your expectations.
Referrals
Retention and referrals are closely related.

You are combating forgetfulness, a consistent communication strategy is how you educate your customer and remind them to take up your offer.

Do what you say what you're going to do, on time, and on budget. The small slip ups can cost you big.

Satisfied customers don't refer, raving customers refer.

Stay in communication and ask for the referral.

Figure out how much money you can spend to get a referral. Referrals are usually more valuable than regular customers.
Final Tips
Surround yourself with people that will point out the lies you tell yourself.

Identify your $10k/hour activities in your business and make sure you're doing at least 8 hours a week.

Employees are an investment, always try to hire up.

Hire for personality strengths, core values, and resourcefulness.
Links To Resources Mentioned
How to Quickly Double Your Profit With Top Performing Employees Master Class – Text "employees" to 44222
Thank you for listening! If you enjoyed this podcast, please subscribe and leave a 5-star rating and review in iTunes!
P.S. – Seize SUCCESS today! Subscribe to HomeServiceMAX to see how the pros do it.