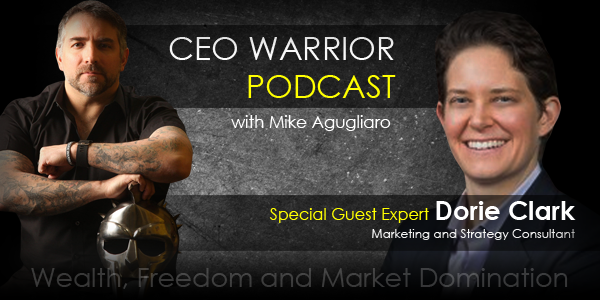 Summary:
Dorie Clark is an Adjunct Professor of Business Administration at Duke University's Fuqua School of Business and the author of Reinventing You and Stand Out, which was named the #1 Leadership Book of 2015 by Inc. magazine, one of the Top 10 Business Books of the Year by Forbes, and was a Washington Post bestseller. A former presidential campaign spokeswoman, the New York Times described her as an "expert at self-reinvention and helping others make changes in their lives."
She is a frequent contributor to the Harvard Business Review, TIME, and Entrepreneur. Recognized as a "branding expert" by the Associated Press, Inc., and Fortune, Clark is a marketing strategy consultant and speaker for clients including Google, Microsoft, Yale University, Fidelity, the U.S. State Department, and the World Bank.
Main Questions Asked:
What is reinvention?

How does one go about reinventing himself?

What are some examples of this process?

Do you believe a lot of people are fake?

Tell us about fears and programming.

Is there a process for defining who you want to become?

How would you tell a small business owner to stand out?

Are there any other aspects of reinvention?
Key Lessons Learned:
Reinventing Yourself
Many entrepreneurs often have to reinvent themselves, going from worker to self employed.

Reinvention is a consistent process, to continue to succeed and grow you have to keep changing the way you think and behave.

Ask your peers and friends "if they had to describe you in three words, what would they be." This can reveal your dominant characteristics.

Consider what words you would want to be described with, these are indicators of your brand and will give you the outline of a roadmap to get there.

Most of us understand in a general way who we are but we have a hard time understanding what about us that stands out to others.

If you always feel comfortable, you are not growing and challenging yourself but you don't always want to be out of your comfort zone either.

There are examples all around us of mentors and people you can emulate, but you don't have to choose only one. You can pick and choose the traits from many people, similar to a mental board of directors. Reinvention is not copying.

You have to constantly monitor where you are at the moment, reevaluate the traits that got you to where you are and make sure they are still serving you.
Social Expectations
We often apologize for a perceived lack of some sort, confidence is uncommon.

We would be better off if we lead with confidence and tried to be authentic instead of pretending to be whatever we think others expect.

Being your true self is like a magnet, you will attract true fans and repel others.

There are many options for achieving the same end goal, if you don't like the traditional kind of networking, there is a variation that works for you.
Fear
Fear doesn't always look like fear, it can manifest as an ideology. Rarely will the world bend to your will.

You don't want to violate your core values, but you shouldn't limit yourself when it comes to learning new skills.

Change always comes with fear but it can be worked through.
Standing Out
You have to distinguish yourself in the modern market if you don't want to become commoditized.

There are three important elements to recognition: content creation, social proof, and your network.

Own your difference and own it as a strength.

Not being a large corporation comes with its own advantages.
Final Tips
Start with content creation, it takes time to become effective but it can pay off exponentially.

Everyone has a personal brand, are you living it?

Choose the traits you want to embody and then figure out how to get there.
Links To Resources Mentioned
Thank you for listening! If you enjoyed this podcast, please subscribe and leave a 5-star rating and review in iTunes
P.S. – Are you SERIOUS about no longer treading water and MOVE your business forward WARRIOR STYLE? Find out more about Mike's Warrior FAST TRACK Academy!