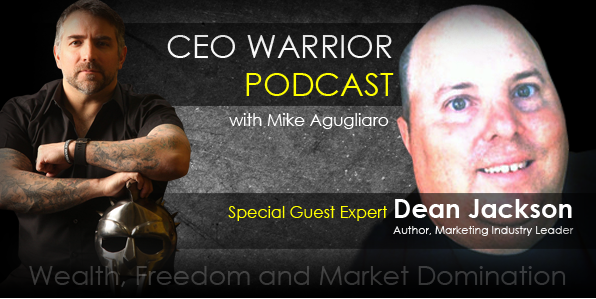 Summary:
Dean Jackson teaches how to separate our business into his 3 part system that utilizes the concept of the 8 profit activators to enrich your business overall. He is a self employed marketing guru and is also one of the regular speakers on the I Love Marketing podcast.
Main Questions Asked:
What is the concept of the 8 profit activators?

How and where can you apply the before, during, and after system?

What are some ways you would identify holes in a business plan?

How can business' provide a better overall experience for their customers?

Can you emphasize what you feel the most important things to take away from what we've learned today are?
Key Lessons Learned:
Business
The 8 profit activators are universally present in every business but manifest differently.

Breaking down your business into a before, during and after unit creates clear objectives for each and focuses the business overall.

Seek people and customers who are most interested in your business and the services or products it provides.

Organize your business to see where breakthrough opportunities are and capitalize on them.

Create a predictable and enjoyable result for your customers. It attracts repeat business.
Marketing and Referrals
Nurture lifetime relationships and orchestrate referrals. Don't wait for referrals to come to you.

Changing your advertising from the slot machine method to the more focused vending machine approach can effectively attract more profitable clientele.

Identifying your business' limits and potential ability to serve customers can help you maximize your advertising dollars.

It has never been easier to maintain relationships and valuable records.

You can apply the before during and after system to many other aspects of your business, even things as simple as company meetings.

Don't forget to thank your customers for their business.
Final Tips
Businesses who can provide confidence for their customers are the ones that come out on top.

People will pay for comfort and convenience.

Every interaction you have with your customer from point A to Z contributes to whether their experience overall was better, consistent with, or less than they're currently used to. So create a dream come true experience.

It costs less to keep customers than to attract new ones.

Fully understanding each component of your business provides key insight which increases your ability to have them interact harmoniously, and produce the best possible results.
Links To Resources Mentioned
Thank you for listening! If you enjoyed this podcast, please subscribe and leave a 5-star rating and review in iTunes