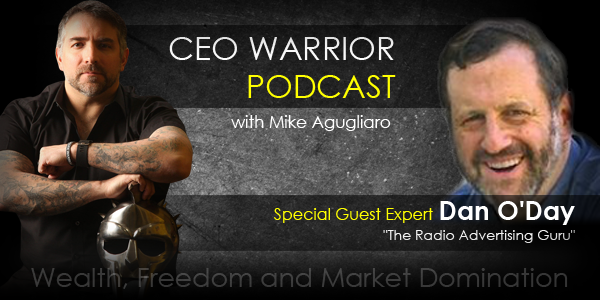 Summary:
In this week's episode of The CEO Warrior Podcast, Mike Agugliaro interviews Dan O'Day, who is a radio advertising guru and the world's highest paid freelance radio commercial copywriter. Dan has helped businesses in 37 countries to produce advertising that has moneymaking results. His book, How to Create Maximum Impact Advertising, remains the industries gold standard in training for radio advertising professionals. During the show, Mike and Dan discuss the good and the bad of radio advertising, copywriting, changes in the radio industry, and the dos and don'ts of radio commercials.
Main Questions Asked:
Explain radio advertising.
Why is there such a high percentage of bad radio advertising?
What has changed in the radio industry during your career?
What has changed in the way of advertising?
What are the dos and don'ts of radio commercials?
How do you know if radio advertising is working?
Has Sirius radio taken away die-hard radio listeners?
Who is radio a fit for today?
Key Lessons Learned:
What Is Radio Advertising?
When radio advertising is done well, it is a trusted friend or advisor whispering in your ear.
Excellent radio advertising is word of mouth that you control.
Radio advertising is communicating a message to one person at a time in a clear and relevant way.
Radio advertising is often seen as noise people don't listen to.
All media is good if you use it well and in an intelligent way, however…
Not all business owners use media well, which includes radio.
Radio, when done right, is really personal.
What Radio Offers
Access to the audience.
Takes advantage of the affinity the audience has to the radio station.
Companionship, entertainment, information, and a very personal approach.
Advertising solves problems.
Bad Radio Advertising
Often, the person who sells the advertising at local radio stations is also the person who writes the commercial.
Just because someone has sales training doesn't mean he or she is a copywriter.
Awards are given to the most creative commercials, not those that are most profitable to the advertisers.
There is so much bad radio advertising because DIY as a business owner seems so easy.
Change in Radio
The biggest change is the consolidation of radio.
When consolidation happens, industries try to achieve economies of scale by having one person doing the job of many.
Radio has become a commodity.
These days, there is less affinity due to the commodification.
Commodification means radio stations charge less, throw in more, and never say no. This means that the product waters it down.
Dos and Don'ts of Radio Commercials
Voicing the CommercialsThe best person to deliver the commercial is the one who can deliver the sales message effectively to your target listener to motivate them to take action.
Some stations have one voiceover artist who does all the commercials that are created in-house.
Having a sole voiceover artist is cost effective, but it means all adverts sound the same, and when the listeners hear that voice, they know it's a commercial and not a personal message.
Most business owners should not voice their own radio commercials.
It takes more than knowing about your business to perform a good piece of radio advertising.
The Core Message
Start with the one thing you want the targeted listener to hear, understand, and remember and work backward.
What will motivate people to take that action?
One of the strengths of radio is repetition.
Reach is how many people hear your message.
Frequency is how many times they hear it.
Radio commercials are not about communicating everything about the business but rather about communicating the one thing that builds trust.
All people care about is what they get out of it.
The biggest challenge for copywriters is to stop writing and go back to talking.
If you have time to 'throw something in,' you have time to strengthen your message.
Is My Radio Ad Working?
You will know within a few days.
If you have been advertising for a few weeks and there is no impact on your business, then something isn't being done right.
Don't base your selection of radio station on what you like to listen to. It's about the station the majority of your listeners' love.
Successful & Unsuccessful Adverts
A great way to test if your radio commercial is likely to succeed is to check if the first sentence includes the name of your business. If it does, it's probably not going to succeed.
Having the business name in the first line signals to the audience that the commercial is not about them.
Successful advertising is entering into the conversation the consumer is already having.
Thank you for listening! If you enjoyed this podcast, please subscribe and leave a 5-star rating and review in iTunes!
Links to Resources Mentioned
How to Create Maximum Impact Advertising (Coupon code: mikepodcast)
Dan O'Day
Click to Tweet
How can you create maximum impact in radio advertising? Find out w/ @Dan_Oday @CEOwarrior https://ceowarrior.com
What is the difference between a successful and unsuccessful radio advert? Find out w/ @Dan_Oday @CEOwarrior https://ceowarrior.com
P.S. – Seize SUCCESS today! Subscribe to HomeServiceMAX to see how the pros do it.

P.S.S. -Dustin Briggs says Mike is going to change your entire Mindset!