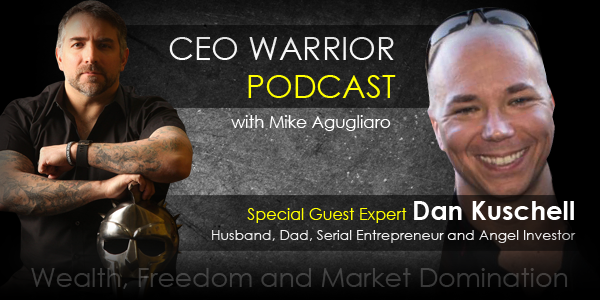 Summary:
In this week's episode of the CEO Warrior Podcast, Mike Agugliaro interviews Dan Kuschell. Dan is a husband, father, and angel investor. Dan started and built 11 companies since 1992, has consulted and appeared on many popular television channels including NBC, Spike TV, History Channel, ESPN and more. Dan and Mike talk about growing your business while maintaining a balanced life.
Main Questions Asked:
When was the moment you decided you had to set boundaries for yourself?

What makes the three questions difficult for some people?

How often should we ask ourselves these questions?

What are some of the biggest growth dilemmas today?

What is marketing and how should we think about it?

What is the one thing that you want business owners to think about over the next few years?
Key Lessons Learned:
Setting Boundaries
Being an entrepreneur can be stressful. Many people sacrifice their health and their lifestyle in order to be successful in business.

Focus on the activities that drive the most results rather than trying to do everything yourself.

Don't wait for a health crisis before you make your life a priority.

Get clear on the answers to three questions: what you want, who you are, and what you stand for.
Growing a Business
If you want a breakthrough you have to be willing to break something.

There is no relationship between being good and getting paid.

Being able to market your message is how you get paid.

There are six key areas of business:

Marketing, Selling/Influence, Productivity, Mindset, Hiring and Recruiting, Leadership.

Improving just 1% each week or month can lead to incredible results.

People don't refund relationships.
The CHAMPION Framework
C – Choose.

H – Higher purpose and health.

A – Be an action taker.

M – Mastery and mentoring.

P – Purpose

I – Invest in yourself.

O – Be an opportunity seeker.

N – Never quit.
Marketing and Selling
Marketing is simply telling people a better story about what you do.

Marketing is what happens before you get someone face to face. Selling is what happens during the face to face.

Marketing enhances the sales process, they compliment each other. Weak marketing means your selling ability has to be better, great marketing makes the sales process easier.

Integrated marketing is the future, a single campaign isn't as effective as building momentum.

Selling is the process of getting someone committed to a future result that will be good for them.

Seek to become a better experience creator. Customers don't buy your services, they buy the results and the experience.
Productivity
Ask two questions: "What is the most important thing I can be doing at any given moment?" and "What is the most important thing my team can be doing?"

Start with your marketing and selling system and optimize that so you can focus on more important activities.

Systems are important to being able to focus.
Mindset
Is your mindset one of abundance or scarcity?

Do you try improve your business or yourself everyday?
Hiring and Recruiting
Hiring is an extension of your marketing system.

Put the prospective employee in a position to test them for what you need.

Having a few filters in the system will make the selection process easier and faster, people will self select and opt out leaving the more qualified people.
Leadership
Final Tips
Ask better questions to get better results.

Tell your story better than your competition.

What is the most important thing you can be doing at this moment.

Leadership is as leadership does.

How can you create the greatest impact?
Thank you for listening! If you enjoyed this podcast, please subscribe and leave a 5-star rating and review in iTunes!
Links to Resources Mentioned
P.S. – Seize SUCCESS today! Subscribe to HomeServiceMAX to see how the pros do it.