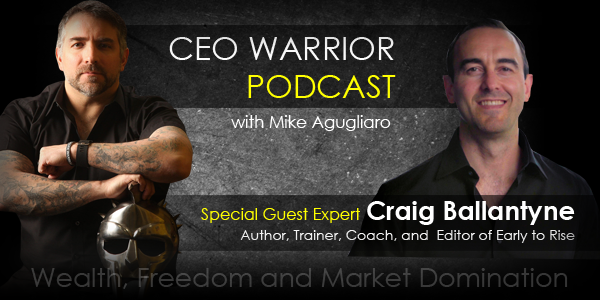 Summary:
In this week's episode of the CEO Warrior Podcast, Mike Agugliaro interviews Craig Ballantyne. Craig Ballantyne is a Productivity & Success Transformation Coach from Toronto, Ontario, Canada. He is the author of The Perfect Day Formula: How to Own the Day and Control Your Life — and his brand-new book, The Great Cardio Myth, debunks all the untruths you've been told about cardio being a silver bullet for weight loss and heart health.
 
Craig has been a contributor to Men's Health magazine since 2000, and his articles have also appeared in Women's Health, Oxygen, GQ, Maxim, National Geographic, Men's Fitness and Muscle and Fitness Hers, amongst many others. His articles have also been featured on Inc.com, LifeHacker.com, and Telegraph.co.uk.
Main Questions Asked:
What is the perfect day formula?

How does someone achieve clarity?

How do people stay on track?

What is the 3c formula?

What are the five pillars of personal transformation?

How can we overcome anxiety?

How do you keep people focused?

What is the one thing you want business owners to think about over the next few years?
Key Lessons Learned:
Perfect Day Formula
People need structure in the daily lives in order to achieve more.

Eliminate your mental clutter and you will be able to laser focus on the things that matter most.

Identify the things in life that you really want and you can begin to eliminate the things that don't help you get there.

There are four seasons of life: health, wealth, family, and personal enrichment. The season you are currently in will determine the things that will drive you to achieve.

Thinking long term instead of short term allows you to focus on what really matters and simplify.

At the end of your day, do a brain dump and set your number one priority for your next day. Break up that priority into segments to make it more achievable.
3c Formula
Control, Cope, and Concentrate.

Control your time in the morning and be ready for obstacles. You can control many of the aspects of your morning and that will set you up for victory.

Cope with the chaos of the day.

Concentrate on what matters.
Rules
Setting rules for yourself gives you control and allows you to be efficient and effective. Structure in your life leads to true freedom.

Rules are like the operating system for your life.

Setting rules allows you to make decisions easier and faster while conserving willpower.

You inherit most of the rules you live by from other people, set your own rules.

Rules are made to be broken, don't let your rules damage your relationships. Stick to them 80% of the time but be flexible.
Personal Transformation
Better planning and preparation.

Get professional accountability. Have a coach or accountability partner call you out when you don't reach your goals, have someone hold you to a high standard. Find a coach that shares your morals and ethics.

Get positive social support.

Set meaningful incentives to keep you on track.

Set a hard deadline.

You can see incredible changes in your life in less than 90 days.

The five pillars can help mitigate anxiety.

Vision is the goal, clarity is being able to describe it in great detail.

People often underestimate themselves and set their goals too low, a good coach will give you a more objective perspective.
Final Tips
Clear out the clutter first then prepare for the next day.

Figure out your goals and priorities and remember why you're working so hard.

Get up fifteen minutes early and work on your number one priority.

Give your life structure so you can be even more effective with what matters.
Links To Resources Mentioned
Thank you for listening! If you enjoyed this podcast, please subscribe and leave a 5-star rating and review in iTunes!
P.S. – Are you SERIOUS about no longer treading water and MOVE your business forward WARRIOR STYLE? Find out more about Mike's Warrior FAST TRACK Academy!