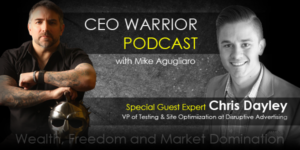 Summary:
In this week's episode of the CEO Warrior Podcast, Mike Agugliaro interviews Chris Dayler. Chris has a passion for helping businesses succeed online. After spending years driving traffic using PPC and SEO, Chris focused on making the user experience of his sites better to see if he could influence his traffic more effectively. After the first test he never looked back.
Chris is the Founder of Dayley Conversion and is currently the VP of Testing and Site Optimization at Disruptive Advertising.
Main Questions Asked:
What is the purpose of a website?

What kind of opportunities are out there for web design?

What have you learned about the way people want to contact you?

How has mobile changed the way you work?

How does social media fit into a web design?

What about video content?

What is the one thing you want business owners to think about when it comes to testing?
Key Lessons Learned:
Web Design
Most designs on the internet are completely arbitrary and have never been truly tested or optimized.

Your website should be the answer to your audience's problem or question. It should communicate to your audience that you have what they are looking for.

Websites evolve over time, when you first launch it isn't what it should look like in three years.

You should be strategic in the path/journey you want your user to take on your site and what result they are going to get.

You want to give the user just enough information for them to take the next step in the path.

The mindset of someone on a mobile device is very different from someone viewing your site on a desktop.

A website can be a huge competitive advantage if your competitors or industry isn't online yet.

A bad website can actually turn customers away.
Testing and Optimization
Being able to split test and analyze data is the way you can separate yourself from the competition.

Heat mapping shows you where people are clicking and how far people are scrolling. It will show you what works and what isn't working.

Small changes can lead to drastic results.

Sometimes removing content is more effective than adding content. Not everyone wants to hear the whole story all at once.

Everything on the web is an experiment, you can always go back to what you had before. When something doesn't work you still learn something valuable. There is always more you can do to refine and the tastes of your audience will change over time. What worked last year may not be the best option this year.

Test everything and then review on which tests made the biggest impact.
How to Connect
People want to connect with you differently depending on what kind of business you are running.

Test the different options you have available and see what resonates most with your audience.

You can create different ways to connect based on whether the user is on desktop or mobile.
Social Media
Content is perfect for social media sharing, but social icons don't make sense for every page of your website.

Social icons shouldn't compete with your call to action.
Video Marketing
Videos are not always effective for the user experience.

It depends on the mindset of the user, video is often a distraction.

If you have a media rich site or a brand built around a personality then video may make sense, test it either way.
Final Tips
Test everything including your assumptions.

Your website has to communicate that you have what your user is looking for.

Keep the user mindset as the focus when trying new things.
Links To Resources Mentioned
Thank you for listening! If you enjoyed this podcast, please subscribe and leave a 5-star rating and review in iTunes!
P.S. – If you were waiting for the perfect time to seize this opportunity, the time is now. Read the Home ServiceMAX Magazine for FREE, today!