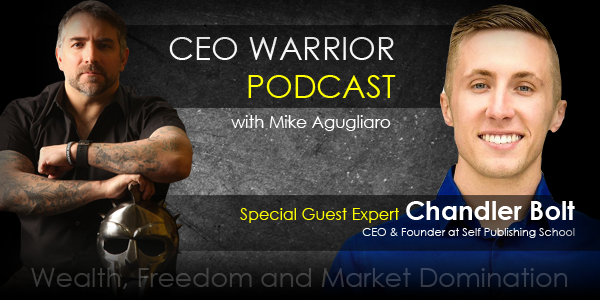 Summary:
Chandler Bolt is the author of six bestselling books including Book Launch and Publish, he's also the founder and CEO of Self Publishing School and has helped thousands of people on their journey of writing their first book.
Main Questions Asked:
What are the first steps in writing a book?

What is the biggest failure point?

What is the purpose of a book?

What are thoughts with aiming for a best seller?

What are the next steps?

Talk about the ability of a book to convert.

Is there a mindset component when it comes to writing?

Talk to us about publishing and forwards.
Key Lessons Learned:
Writing
81% of people want to write a book, less than 1% of people actually do it.

Figure out what you want to write about, consider the pains that you see in your industry and customers. Create a mindmap with your idea, create the outline and group your ideas, further define your chapters, the final step is write it.

Avoid digital mind map software, stick to a blank sheet of paper and a pen.

If you aren't comfortable with writing, you can always record your words and get them transcribed. This becomes your rough draft.

The biggest failure point for people is not starting at all. Get a mentor to show you the way.

The rough draft always sucks, but it's a jumping off point. Better done than perfect.

A book is a glorified business card, it brings authority, leads, sales, and credibility.

Best seller as a goal isn't always necessary, it's more important to leverage the fact that you have written a book.

Imposter syndrome impacts everybody initially.

Oftentimes, once you get past the first book it becomes much easier to keep producing.

Make a declaration and then take people with you on the journey.
Publishing
Don't skimp on the cover, people definitely judge a book by it's cover. The title should be big, bold, and take up the top third. Think of ways to have your book cover stand out from the ones it will be next to.

Choose the right format for the channel you're using.

Create a launch team, a group of people to review your book and spread the word once it's published.

You launch and new book the same way you would launch a new product in your business.

There is a massive difference between publishing a physical book and publishing a digital book.

For 99% of people, going the traditional publishing route is a bad idea. Self publishing is the best option today. Being in bookstores is less important now.

If a forward slows down the process, don't wait for it.
Business
Your book is like a silent salesman, it will do the heavy lifting in converting the people you want as customers.

Books are excellent freebies with tons of perceived value.

Your book is a great way to get started with PR, it legitimizes you and what you do.

The content in your book can be repackaged and used in other aspects of your business ex. Online courses.
Launch Team
Ask people to fill out an application if they are interested in being part of the team.

Offer them a free copy of the book, behind the scenes access.

Give them assignments each week.
Final Tips
Start with a mind map.

Don't forget the launch plan.

Repackage and leverage the content of your book.
Links To Resources Mentioned
https://self-publishingschool.com/
How to Self Publish a Book in 2017
Thank you for listening! If you enjoyed this podcast, please subscribe and leave a 5-star rating and review in iTunes!
P.S. – Seize SUCCESS today! Subscribe to HomeServiceMAX to see how the pros do it.