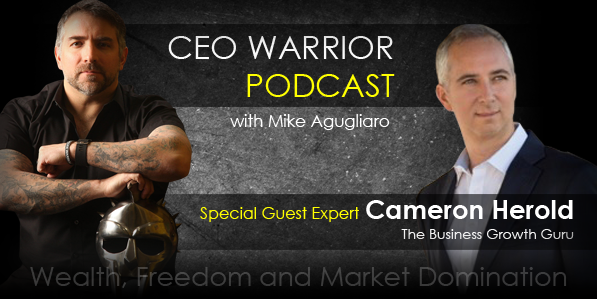 Summary:
In this week's episode of the CEO Warrior Podcast, Mike Agugliaro interviews Cameron Harold. Cameron is known around the world as the business growth guru. Cameron speaks from experience by guiding his clients to doubling their revenue in three years or less. He is a top rated speaker, author, and leader.
Main Questions Asked:
What is going on in Cameron's world?

What's the problem with meetings these days?

Why do people highjack meetings?

When is it time to have a meeting?

What do you suggest when it comes to strategic thinking?

What is the roadblock for entrepreneurs creating the vivid vision?

Do you think people have fear around sharing a big future?

Tell me about the second in command.

What should entrepreneurs think about over the next few years?
Key Lessons Learned:
Meetings
Meetings don't suck, we suck at running meetings.

People just need the basic skills to make meetings more successful.

Every meeting has to have a clear purpose. One sentence.

Every meeting has to have clear outcomes and a clear agenda.

Book every meeting for half the time you initially think you need.

Every meeting should start on time. Stop your meetings five minutes early.

Get a copy of Meetings Suck for your team and get them to read it.

Engagement can be seen in the small details like how punctual someone is, whether they offer ideas to improve, they show genuine interest, or taking initiative.

People don't understand the time constraints on meetings, write down interruptions and deal with them later. Have a moderator to keep things on topic.

Follow these rules and your team will begin to fall in line.

Every company should have a yearly retreat to establish goals, a quarterly retreat for the leadership, monthly meetings for strategic thinking and metric reviews. A daily huddle for the whole company can be helpful as well.

The CEO or leader should be the one to speak last. Let the team figure stuff out first.
Strategic Thinking
Just do what the best companies do, they've already figured it out.

Use the post it note system and choose your goals.

Brainstorm on the projects that will get you moving towards your goals.

Eliminate the projects that won't work.
Business Vision
Don't start with delegation, start with inspiration.

Tell your team what you want built instead of how to do it.

Describe your company three years in the future as if it exists already. Document the vision in as much detail as possible so that your team can make it happen.

Goals are not the vision, the experiences, customers, and operations should be the vision.

Get away from technology and create a mind map, you will be surprised how much you will come up with.

When you don't tell people what you're building, they will just assume you are trying to make tomorrow better.

Figure out where you want to end up and then figure out a way to profit from your efforts so you can get there.

Don't just focus on revenue and profit.
Fear
The people you grew up with may not think the same way as you.

The more you share your dreams the more people will conspire to make it happen.
Network
The people you spend the most time with determine how much money you will make.

Surround yourself with people that are at a higher level than you.

Look for an accountability partner.
Second in Command
Start with an executive assistant before you higher a second in command.

Write down the top 5 things they need to get done in the first 12 months.

A COO has to be someone you can get along with.

Delegate everything that you don't love to do, look for someone who compliments your strengths.

Entrepreneurs tend to train themselves to everything on your own.

A lifestyle business is a business that can run without you, you can choose to create this.
Final Tips
Train your employees on how to run meetings.

Start them on time and end them early.

Figure out your goals and how to achieve.

Delegate everything except your genius.
Thank you for listening! If you enjoyed this podcast, please subscribe and leave a 5-star rating and review in iTunes!
Links to Resources Mentioned
P.S. – Seize SUCCESS today! Subscribe to HomeServiceMAX to see how the pros do it.