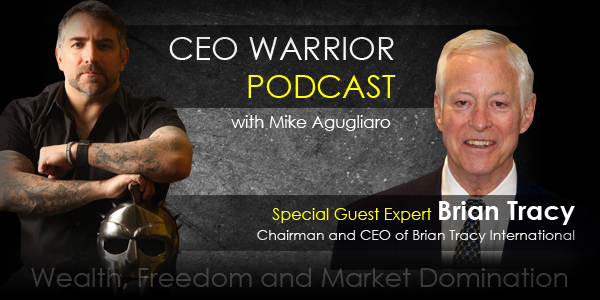 Summary:
In this week's episode of the CEO Warrior Podcast, Mike Agugliaro interviews Brian Tracy. Brian is the chairman and CEO of Brian Tracy International, a company specializing in training executives and individuals for success. Brain is an author, keynote speaker, teacher, and so much more.
Main Questions Asked:
What do you see as the problem in small companies today?

Do great leaders create great culture?

How should we develop better leaders?

What would you say to someone who thinks they don't have enough time?

What do you think business owners should pay attention to over the next few years?

Can you share some wisdom around hiring and recruiting?
Key Lessons Learned:
Small Business
Online networking is not working, small business needs to get out there and sell their product.

Most people think they can sell a customized product the same way they can sell a transactional product.

You need great leadership, someone with a clear vision and the responsibility for getting things done.

You need a great product, 90% of success is due to having a great product. Increase the quality of your product first.

You need a great business plan.

The majority of small businesses don't have any of those.

Ignorance of the laws of business results in bankruptcy.

Keep current with what's happening in the world of business and your industry especially.
Leadership
Leaders are developed, often self developed.

Most large businesses spend a large amount of money training their leaders.

Successful leaders learn constantly.

If you emulate the great leaders, you can get similar results.

The first job of a leader is to set business goals, you must have clarity. Clear goals and objectives, clear measures and standards, clear deadlines and schedules, and finally reward high performers well.

Solopreneurs have to sell all day, every day.
Marketing Plans
The value proposition is the heart of your business. It's not your product, it's the effect and emotion and how it can change the life of your customer.

Marketing is not sales.

Your value proposition should be explained in less than 12 words.

Your marketing should connect with your customer's emotions.

Marketing leads to selling, selling is a process. Focus on helping your potential customer and they will want to buy your product.
Time Management
You have enough time, you just have to make it a priority.

Say no to everything that doesn't make a big difference.

The average person spends too much time on Facebook or email.

Plan your day the night before, set your highest priority and then work on that in the morning, turn everything off until 11am.

If the motivation is high enough, you will find the time.

It takes about 17 minutes to get back on task if you allow yourself to be distracted.
Goals
Goals that aren't written down are wishes.

Rich people have goals that they work on nearly every day.

Work with clarity, write your blueprint and work from it.
Hiring
We can only hire people who are as good as we are.

The best way to find better people is to improve the quality of the leader.

You can't recognize someone that is above your own level.
Success
Successful people have rituals. Successful people tend to get up early and exercise, then get ready for the day.

How you dress is how you think about yourself. Don't look like a bum.

Start on your most important task for 90 minutes, take a break, then do another 90 minutes.

Check your email for no more than 21 minutes each day.

It takes an average of 22 years to become a millionaire, from the moment you decide to become one. If you want to earn more money faster, sell more stuff.
Final Tips
Leaders are developed, how about yours.

Create a performance culture.

Read everyday.

Plan your day in advance and work on your highest priority.

Make more money by selling more stuff.
Thank you for listening! If you enjoyed this podcast, please subscribe and leave a 5-star rating and review in iTunes!
Links to Resources Mentioned
Change Your Thinking, Change Your Life
P.S. – Are you SERIOUS about no longer treading water and MOVE your business forward WARRIOR STYLE? Find out more about Mike's Warrior FAST TRACK Academy!