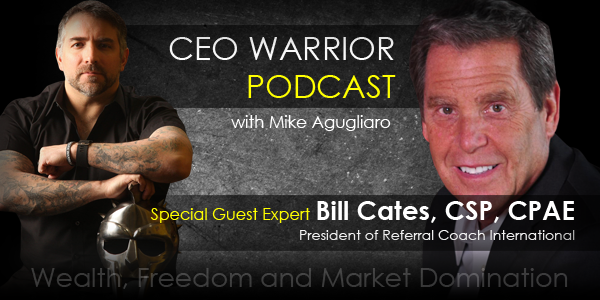 Summary:
In this week's episode of The CEO Warrior Podcast, Mike Agugliaro interviews Bill Cates. Bill is an internationally recognized client acquisition expert and author. Bill has helped companies of all sizes build their businesses with powerful referral networks. He is also the president of Referral Coach International and Referral Coach Academy. He has been featured in Success magazine, Entrepreneur, Huffington Post, as well as numerous other publications.
Main Questions Asked:
● What are referrals and how should we be thinking about them?
● How does the referral process work?
● How do you build engagement?
● Are there any old school methods that don't work anymore?
● What are some of the things that hold people back from asking for a referral?
● What are some things you want people to think about in the coming years?
Key Lessons Learned:
Net Promoter Score
● Measures the willingness of your customers to refer you.
● Do you have a system in place that encourages your customers to refer?
● The Lifetime Value of a customer includes who they can introduce you to.
Building Referrals
● Engagement, being referrable.
● Leverage, being appropriately proactive.
● Connection, creating a relationship and following up.
● Stay in touch with your customers.
● Create a culture within your business that rewards referrals.
● Satisfied customers can be very loyal but still not give a referral.
● The referral happens at the beginning of the process, not the end.
● Referrals are earned, don't assume. They shouldn't feel like an obligation.
Mindset
● Consider how someone would prefer to meet you.
● Understand how powerful referrals can be.
● Remember to give referrals as well.
Engagement
● Engaged customers are much more likely to refer your business.
● You bring value to the relationship beyond the initial transaction.
● Be likeable, friends are the most likely to refer you.
● Three areas of experience: prospect, onboarding, and ongoing.
● Your first point of contact either builds or hurts your prospect experience.
● Teach your customers how to buy what you sell. Teaching helps build trust, focus on your customer's needs instead of the sale.
● Welcome customers to your business.
● Connect with your customers after your transaction.
● People do business with people they like.
Leverage
● Celebrate the people that refer your business.
● Make referrals part of your culture and company message.
● Promote referrals by planting the seed. "Don't keep me a secret."
● Give referrals and connect people.
Connection
● Give referrals the way you would like others to refer you.
● Don't be assumptive.
● Be soft with the ask, but confident in your approach.
● Your offering to help them help their friends and family.
● Not asking for a referral is a lost opportunity.
● Ask for some point of contact.
● Get them invested in making the introduction.
Obstacles
● Fear of rejection.
● You don't want to be in a position of weakness by asking.
● You don't want to hurt the relationship.
● You don't fully believe in the work you do.
VIPS, How To Ask
● Value, check in with the customer, make sure they are happy with the experience.
● Important, "I have an important question to ask".
● Permission, "How do you feel about introducing them to me about how we can help?"
● Suggest Names and Categories, particular people they have mentioned, certain categories of relationship, neighbours, in-laws etc.
Final Tips
● Get past yourself. Don't be afraid of "no".
● Be referable, provide the value.
● Do good work, believe in it, and bring it to other people.
● Pay attention to the productive customer experience.
Thank you for listening! If you enjoyed this podcast, please subscribe and leave a 5-star rating and review in iTunes!
Links to Resources Mentioned: